Last Updated Jan. 12, 2020
On the hunt for a great record store to visit on your next trip?  Here's a list of articles, updated regularly, that will help, informing of the best independent record stores open today.  Happy digging.  Hopefully, they're playing something you like and better still, don't know.  Or ask the store clerk – some of my best records were bought on the recommendation of a guy running a record store.  And don't forget – maybe I've been there, and put a post up on it.  If the list is daunting, use the find function in your Google browser to jump to the place of interest to you.
While you're perusing the list perhaps a little music?  Can think of only one worthy selection – I've Been Everywhere by Johnny Cash
From LaWeekly, an August 26, 2016 article titled The 20 Best Record Stores In Los Angeles And Beyond.
From the Blog LAWeekly, a Dec. 16, 2013 article titled 10 Best Record Stores in LA  .  And a companion piece, featuring photos of the stores by Kelsee Becker.
While in California, here's another list from the Bold Italic – Mining For Gold: The Best Record Stores In San Francisco, published August 2, 2016.
Here are six separate lists of the best record stores in NYC (including Brooklyn and Manhattan)
From NYC Go/ Jonathan Zeller/ April 10, 2013 – Vinyl Sale NYC Music Stores
From Grandlife Hotel's / Anthony Pappalardo – published May 16, 2013 –  NYC's Best Record Stores: Our Top 5 Picks
and from Time Out New York  /  Jan. 23, 2013 –  Best Record Stores in NYC
From NYC Guide, a Jan. 15, 2014 post Five Best (Remaining) Record Stores In NYC
From Thrillist here's an Oct. 2016 article  Best (Remaining) Record Stores In New York City by Dan Reilly.
The Gothamist ran this April 2016 piece titled The 15 Best Record Stores In NYC.  Careful, two – Other Music and Rebel Rebel have since closed.
As (most) of New York City's record stores have moved to Brooklyn, if you want to go, check out Vinyl Lives: A Guide To All 27 Of Brooklyn's Record Stores published on the web site Brokelyn.com in October 2017.  And no, Brooklyn is not in NYC, even though its part of NYC.  Get it?
Here's a list of where to go hunting for records on Long Island published in Newsday's Explore Long Island on January 22, 2014 – Independent Record Stores.
And a more recent list Step Inside LI's Independent Record Stores published in December 2017 in the Long Island Pulse featuring 11 of Long Island's finest record stores.
Upstate New York?  NYup gives us 12 of the best record stores in Upstate NY: Where to find old, new music on vinyl featuring record stores north and west of the City, published in November 2017.
While 7 Record Stores That Keep The Beat Alive from Visit Buffalo Niagara in April 2019 features 7 of the best record stores Buffalo has to offer.
Here are some articles about best of record stores throughout the US
From Daily Candy/ April 18, 2013  Coast to Coast: Indie Record Stores  features 27 stores from coast to coast.
Rolling Stone published this list of Best Record Stores in the USA featuring 31 record stores throughout the country.  A list that leads with Ameboa can't be all bad.
From Pitchfork an August 20, 2012 article titled Record Party: Our Favorite Shops .  19 shops (mostly) throughout the US.  Call first, as the article is a little dated and you know what can happen to an indie record store, even a favorite.
Another best of the country list, this time from USA Today published on July 22, 2016 Vinyl Lives! 10 Great Record Stores for a Musical Treasure Hunt.
Here's Thrillist's take in February 2015 of the 21 Best Record Shops In America.
Hi Consumption offered this list in October 2016 Pick n' Pull: 18 Best Record Stores In America.
From Whoo New (Discover the Best of Northeast Wisconsin), is a July 30, 2013 post from Gracie Savides, Five Rockin' Independent Record Stores in Northeast Wisconsin .
From the Minneapolis City Pages, a March 12, 2013 post from Erik Thompson of the Top 10 Best Places To Buy Vinyl In The Twin Cities (Minnesota for those of you who are geographically challenged).
Here's a more recent article 10 Best Twin Cities Record Stores published on Citypages.com in April 2016.
And another Top 3 Stores For Vinyl Enthusiasts In Minneapolis published by CBS Minnesota on September 26, 2018.
From Jack McCormick, Nov. 8, 2013, for the Loyola Phoenix, Exploring Chicago's Record Stores
Here's a more recent article on Chicago's best record stores that appeared in Time Out Chicago on September 28, 2017 titled The 12 Best Record Stores In Chicago
From Hear Nebraska.org, results of a readers poll published on Sept. 25, 2013 of the Best Record Stores In Nebraska Top Five
Going to Arizona?  The Phoenix New Times Blogs gives you this April 18, 2014 article from Glenn Burn Silver titled 10 Best Record Stores in Metro Phoenix
And here's a more recent article 10 Best Record Stores In Metro Phoenx that appeared in the Phoenix New Times in January 2017.
Perhaps Miami, Fla?  The Miami New Times Blogs published an article by Crossfade on April 14, 2014 titled Miami's Five Best Record Stores
Here's an October 2017 article from the Miami New Times South Floridas Six Best Record Stores.
From Whats Next for Pittsburgh, here is Digging for Wax: the Next Guide to Independent Pittsburgh Record Stores published April 14, 2015.
An article in NJ.com by Bobby Olivier published April 17, 2015 titled 17 Enduring NJ Vinyl Shops Ready For Record Store Day gives you, surprise, a list of record stores to visit in Garden State.
Right next door, 8 Favorite Record Stores Around Connecticut from Connecticut Magazine in November 2016 tells you the best Connecticut has to offer.
Boston Magazine published this helpful April 15, 2015 article Vinyl Sightings: Boston's Top Record Stores to help your record collecting while in Boston.
Portland is loaded with record stores.  They're everywhere.  A Guide To Portland's Record Stores appeared in Willamette Week.  Initially published in 2015, this guide was updated in January 2017.  There are sooooo many record stores in Portland that they publish a guide – Portland Guide To Independent Record Stores – with locations and a handy map so you can find them yourself.  Here's the 2012 guide.
Cleveland?  Akron?  Ohio?  From Cleveland.com (think they know Cleveland?) comes 17 Great Independent Record Stores In Cleveland, Akron and Beyond published in December 2015.
CBS.com published their own list in April 2015 of the  Best Record Stores In Cleveland.
And City Pulse published this handy Columbus On Vinyl: A Guide To The Area's Best Record Stores if you're thinking of digging in nearby Columbus.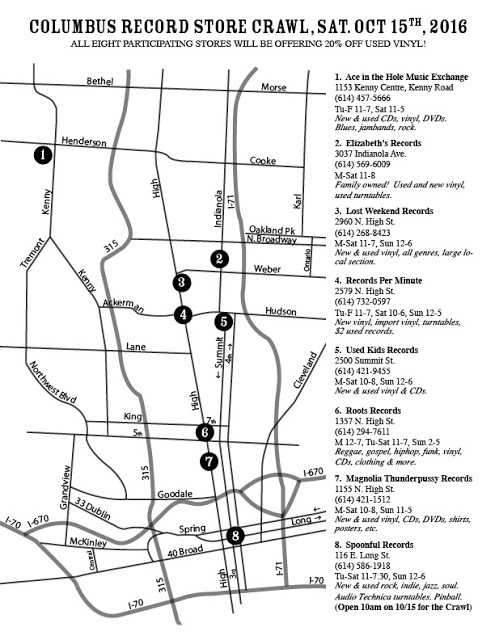 And here's a handy map from Spoonful Records from 2016 of the best Columbus has to offer.
10 Amazing Philly Record Stores To Shop This Weekend from Philadelphia Magazine in April 2016 gives you the best record stores Philadelphia has to offer.
Time Out San Francisco in August 2016 gave us The Best Record Stores In The Bay Area covering both San Francisco and Oakland.
While the Bold Italic in August 2016 stuck strictly to San Francisco in Mining For Gold The Best Record Stores In San Francisco.
You would expect Austin Texas, the great music town it is, to have any number of great record stores.  Here's a list of 12 of the city's finest from the Austin Chronicle Guide To Austin Record Stores published in August 2017.
Houston's Ten Best Record Stores published in the Houston Press in August 2016 features – you guessed it – the 10 best record stores in Houston.
From Offline Raleigh comes Vinyl Lovers: The Best Record Shops In The Triangle which gives you the best stores in Raleigh and Durham North Carolina.
New Orleans must have great record stores, given all the music going on there.  Here is the Vinyl Factory's Definitive Guide To New Orleans Best Record Shops from October 2016.
From the Atlanta Journal Constitutional (AJC.com) comes  8 Atlanta Record Stores For The True Vinyl Lover published in June 2016.
CBSAtlanta gives us their pick of the best 5 record stores Atlanta has to offer in Best Record Stores In Atlanta published in April 2015.
From Louisville Magazine, here is their list of the Best Places In Louisville To Find Vinyl Records  featuring 5 of the best record stores in Louisville Kentucky.
From Musician Gabe Close here's My 5 Best Record Stores In Louisville Kentucky  from July 26, 2015.
Four Snapshots Of Spokane's Booming Record Store Economy from the Stranger in April 2017 shows you where to dig if you're off to Spokane Washington.
If you're going to Boise, Idaho, it looks like there is only one clear choice – The Record Exchange.  The Boise Weekly in its Best of Boise 2014 listed the Record Exchange as the winner of the Best Local CD/Record Store.  It noted that the Record Exchange was also the winner for each of the years from 2007-2013.  If you want to know, it listed Dunkley Music and Yesteryear Shoppe as numbers 2 and 3.  Here's an article about the store that appeared in the Idaho Statesman in December 2017  At 40, success and longevity of Boise's iconic Record Exchange 'a pretty remarkable thing'.  It also has a video about the store and its history.
Curbed Detroit gives us Detroit's Record Stores, Mapped   Published in April 2017 its a cool presentation of what Detroit has to offer with both photos and a handy map so you can plan your own tour.
Here's another article on Detroit from the Red Bull Music Academy Daily Counter Intelligence: Detroit from May 2016 with 4 of the best Detroit has to offer.
6 Amazing Record Stores You Should Hit Up In Cincinnati from Cincinnati Refined in November 2016 tells you where to go for your records when you're in Cincinnati.
Here's another handy map, this time of Record Stores of Washington DC from 2013.  Crooked Beat has moved.  Info on their new location can be found on our post describing my visit to the store.
Here's an April 2017 article from Curbed Washington D.C. 10 Record Stores in D.C. Area Worth Searching For which features 10 of Washington's best, and has Crooked Beat at its new location.
If you're off to Denver, Colorado, here's Denver's Best Record Stores from Westword, published in November 2018.

Best Record Stores –  Global
Buzz Feed/ August 16, 2013/ Maria Sherman gives you a list of Best Record Stores Around The World .  Featuring 27 different stores throughout the world.
Flavorwire give us this Jan. 28, 2013 article by Tom Hawking The Most Beautiful Record Stores In The World featuring 10 record stores throughout the world.
The Guardian provides a list of the 10 Best Record Stores in Britain courtesey of their readers, dated Mar. 29, 2013.
Vinyl Factory gives us 50 of the World's Best Record Shops.  I'm never going to get to many of these places myself, so I guess I'll just have to take their word for it.
Thump published its list in April 2017, titled Here's 17 Record Stores You Should Visit Before You Die featuring 17 stores throughout the world you must see.  (I've been to three).
Maybe you're off to Canada?
This list Best Record Shops In Toronto was published on theculturetrip.com in Oct. 2016 by Alix Hall.
From the Daily Hive comes 10 best record stores in Vancouver published on October 31, 2016.   And from Vancouver Is Awesome comes 12 local record stores that vinyl aficionados will adore  published on April 21, 2018.
Here's Indie Guide's June 2017 article titled Best Record Stores In Montreal featuring 6 of Montreal's finest.  Maybe you can find a copy of the Ugly Ducklings' Nothing.
Needle Groove offers Montreal Record Stores A Crate Digger's Guide which features the best and the rest of what Montreal has to offer.  Published in January 2017.
And you can't forget Vancouver.  A Guide To Hunting Vinyl In Vancouver lets you know where to shop when you're in Vancouver – from the Ubyssey in March 2017.
Step Inside These Noteworthy Record Stores Across Canada, from Red Bull Music in August 2018, introduces you to 10 record stores throughout Canada.
Here's a list of the best record stores in Barcelona Spain.  The Eleven best Record Shops in Barcelona published in Foresquare.  I used this during my tour of record stores in Barcelona and so can recommend it.
Hunting in Lisbon Portugal?  Here's the Vinyl Factory's 2014 list The Vinyl Factory Goes Record Shopping In Lisbon which feature 4 stores.
Bimm Cities published this list in December 2017 of Hamburg's Top Five Record Stores with links to each of the store's websites.
The Culture Trip covers Paris with The Ten Best Record Stores In Paris updated in February 2017.
From Wales Online comes the 9 Best Independent Record Shops In Wales published in February 2015.
In April 2017 iNews the Essential Daily Briefing gave us The Best Record Shops In Edinburgh – No Matter What Your Taste .
Tokyo's 11 Best Record Stores as recommended by Compathy magazine in May 2017.
Or perhaps The Biggest Guide To Tokyo Record Stores On The Internet published by Mostly Retro in October 2016.  Someone has to be the biggest, right?
If you're going to go, you need to get the Record Map, a handy book that lists (all?) of Japan's record stores.  You'll need to be able to read Japanese though.
If you're into house and techno, and going to Osaka, then this list 10 Record Shops That Make Osaka A Crate Digging Paradise published by Electronic Beats is for you.
If not Osaka Record Shopping – The Inside Track published by Odigo in October 2016 is the list for you.
And here are some handy record maps to take with you while you dig.
The best of what Sydney Australia has to offer can be found in this handy guide 
Diggin' Sydney
.  You can download a copy from the site, or click 
here
.  Apparently, a regularly updated guide, this one is from 2017.
From the website Myhelsinki.fi comes Record Stores In Helsinki to help guide your record shopping in Helsinki Finland.
And here's a handy map from the people at VinylHel of Helsinki's record stores.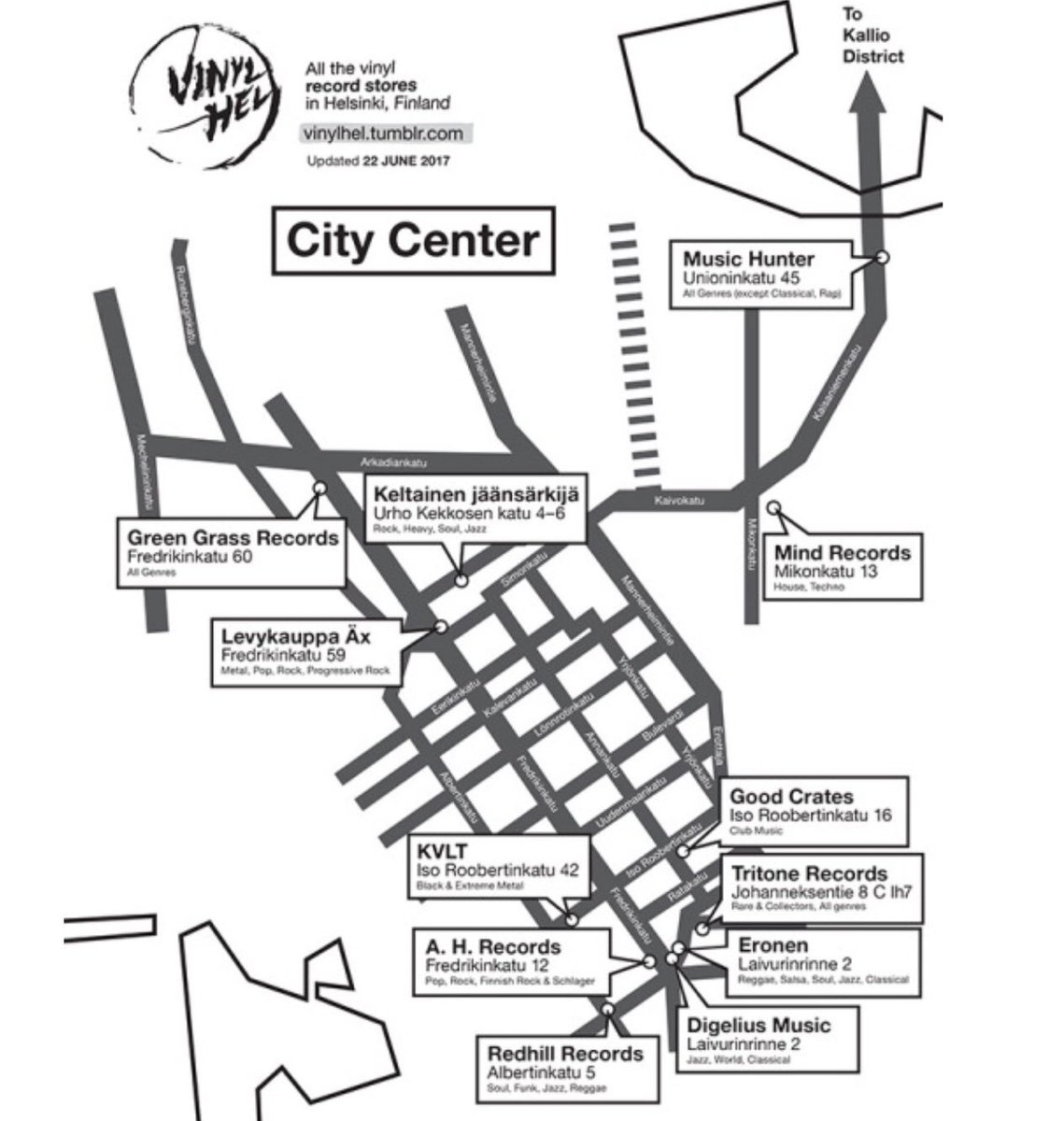 Been to any of these stores?  Know the author?  Give a shout out and help your fellow collectors (unlike Johnny Cash, I've not been everywhere man).