Last Updated January 12, 2023
On the hunt for a great record store to visit on your next trip?  Here's a list of articles, updated regularly, that will help, informing of the best record stores open today.  Happy digging.  Hopefully, they're playing something you like and better still, don't know.  Or ask the store clerk – some of my favorite records were bought on the recommendation of a guy running a record store.  And don't forget – maybe I've been there, and put a post up on it. 
The list starts with New York (where I'm from) and California (where I used to be from).  Then it has best of the US articles.  After that, the list is organized alphabetically by state (in the US) or by country (globally).  If the list is daunting, use the find function in your Google browser to jump to the place of interest to you.
You can also check out our Fun Facts section (below) to find out which country/city is home to the most record stores, the oldest record store still in business, the biggest record store, the most expensive records ever sold, and other interesting facts about vinyl.
While you're perusing the list perhaps a little music?  Can think of only one worthy selection – I've Been Everywhere by Johnny Cash
One quick note – most of these articles are titled "Best Record Stores in [Location]".  To eliminate this repetition, and help Google show you this list, I have modified their titles.  Each is a great resource for finding local record stores.
New York
Here are six separate lists of great record stores in NYC (including Brooklyn and Manhattan)
From NYC Go/ Jonathan Zeller/ April 10, 2013 – Vinyl Sale NYC Music Stores
From Grandlife Hotel's / Anthony Pappalardo – published May 16, 2013 –  Our Top 5 Picks of NYC stores.
and here's an article that appeared in Time Out New York on Jan. 23, 2013 with their top picks.
From NYC Guide, a Jan. 15, 2014 post Five Best (Remaining) Record Stores In NYC
From Thrillist here's an Oct. 2016 article  Best (Remaining) Record Stores In New York City by Dan Reilly.
The Gothamist ran this April 2016 piece touting 15 stores you should visit in NYC.  Careful, two – Other Music and Rebel Rebel (which indeed you  hopefully have visited) have since closed.
As (most) of New York City's record stores have moved to Brooklyn, if you want to go, check out Vinyl Lives: A Guide To All 27 Of Brooklyn's Record Stores published on the web site Brokelyn.com in October 2017.  And no, Brooklyn is not in NYC, even though its part of NYC.  Get it?
Here's a list of where to go hunting for records on Long Island Step Inside LI's Independent Record Stores published in December 2017 in the Long Island Pulse featuring 11 of Long Island's finest record stores.
Or for the completist, Take a Tour of all the Record stores in Suffolk County from Greater Long Island.com contains their list, circa June 12, 2021, of all the stores in Suffolk County (for those who don't know, that is not all of Long Island, which includes Nassau, but not Queens or Brooklyn, even though they are on the same Island).
Upstate New York?  NYup gives us Where to find old, new music on vinyl featuring 12 great record stores north and west of the City, published in November 2017.
While 7 Record Stores That Keep The Beat Alive from Visit Buffalo Niagara in April 2019 features 7 record stores to visit when in Buffalo.
California
From LaWeekly, an August 26, 2016 article titled The 20 Best Record Stores In Los Angeles And Beyond.
Here's an earlier Dec. 16, 2013 article from LAWeekly  touting 10 of LA's finest stores.  
While in California, here's another list from the Bold Italic – Mining For Gold, published August 2, 2016, telling you where to dig when in San Francisco.
Time Out San Francisco in August 2016 gave us The Best Record Stores In The Bay Area covering both San Francisco and Oakland.
While the Bold Italic in August 2016 stuck strictly to San Francisco in Mining For Gold.
Best Record Stores In The US
Here are some articles about record stores you must visit throughout the United States.
From Urban Matters/ June 2020 comes 25 Best Indie Record Stores to Visit Across America  featuring 25 stores from coast to coast.
Rolling Stone published this 2010 list of Best Record Stores in the USA featuring 31 record stores throughout the country.  A list that leads with Ameboa can't be all bad.  How many have you been to?
From Pitchfork an August 20, 2012 article titled Record Party: Our Favorite Shops .  19 shops (mostly) throughout the US.  Call first, as the article is a little dated and you know what can happen to an indie record store, even a favorite.
Another record stores you must see in the US list, this time from USA Today published on July 22, 2016 Vinyl Lives! 10 Great Record Stores for a Musical Treasure Hunt.
Here's Thrillist's take in February 2015 of the 21 Best Record Shops In America.
Hi Consumption offered this list in October 2016 Pick n' Pull: 18 Best Record Stores In America. 
From Hoodline.com comes this November 2018 piece Vital vinyl: Here are America's 50 favorite record shops   According to the authors, they "us[ed] Yelp data and our own special sauce to produce a data-driven breakdown of where vinyl reigns supreme across the U.S."  I've been to 12 of these shops (and counting).
A more recent list comes from the inestimable Spin magazine, The 10 Great Record Stores in America published on June 12, 2021.  I might quible with their suggestion that their are only 10 great stores, but not with their selection of 10 stores, each of which is great.
By State (Alphabetically)
Phoenix Arizona
Going to Arizona?  The Phoenix New Times give you this January 2017 article by Glenn Burnsilver of 10 fine stores in the Phoenix metro area.
And here's a more recent article that appeared in the Phoenix New Times in November 2020 with their recommendations of 12 record stores to visit when in the Phoenix metro area.
Denver Colorado
If you're off to Denver, Colorado, this article from Westworld, published in November 2018, will tell you where to look.
Connecticut
Right next door (to me), 8 Favorite Record Stores Around Connecticut from Connecticut Magazine in November 2016 tells you the record stores to visit when you're in Connecticut.
Florida
Perhaps Miami, Fla?  The Miami New Times Blogs published an article by Crossfade on April 14, 2014 featuring 5 of their favorite stores in Miami. 
Here's an October 2017 article from the Miami New Times South Florida's Six Top Record Stores.
From Long Live Vinyl comes The Trip: Orlando's Record Stores  featuring 9 must visit stores when you're in Orlando (and have had enough of Disney Land, which for me would be the minute I landed in Orlando).  They also provide this handy map to help you find the stores they recommend.
Atlanta Georgia
From the Atlanta Journal Constitutional (AJC.com) comes  8 Atlanta Record Stores For The True Vinyl Lover published in June 2016.
CBSAtlanta gives us their pick of the finest 5 record stores in Atlanta in this April 2015 piece.
Boise Idaho
If you're going to Boise, Idaho, it looks like there is only one clear choice – The Record Exchange.  The Boise Weekly in its Best of Boise 2014 listed the Record Exchange as the winner of the Best Local CD/Record Store.  It noted that the Record Exchange was also the winner for each of the years from 2007-2013.  If you want to know, it listed Dunkley Music and Yesteryear Shoppe as numbers 2 and 3.  Here's an article about the store that appeared in the Idaho Statesman in December 2017  At 40, success and longevity of Boise's iconic Record Exchange 'a pretty remarkable thing'.  It also has a video about the store and its history.
More kudos for the Record Exchange, this time from OnlyInYourState.com  comes The Record Exchange In Idaho Is A Vintage Gem published February 2020.
Chicago Illinois
From Jack McCormick, Nov. 8, 2013, for the Loyola Phoenix, Exploring Chicago's Record Stores
Here's a more recent article that appeared in Time Out Chicago on September 28, 2017 on 12 of Chicago's finest record stores. 
Illinois
And if you're not going to Chicago?  Bizticles gives you their take on The Ten Best Record Stores In Illinois, featuring stores in Springfield, Normal, Godfrey, Urbana, Champaign, Joliet and Elgin, in addition to Chicago.
Louisville Kentucky
From Louisville Magazine, here is their list of the Best Places In Louisville To Find Vinyl Records  featuring 5 of Louisville Kentucky's finest.
Musician Gabe Close recommends his 5 Favorite Stores in Louisville  in this article from July 26, 2015.
New Orleans Louisiana
New Orleans must have great record stores, given all the music going on there.  Here is the Vinyl Factory's Definitive Guide To New Orleans Best Record Shops from October 2016.
Baltimore Maryland
Baltimore Magazine published this handy article Spin City: Your handy guide to the best vinyl shops in town in May 2018 listing 11 of Baltimore (the Charm City) finest, including the beloved Sound Garden of Fells Point.
Boston Massachusetts
Boston Magazine published this helpful April 15, 2015 article Vinyl Sightings: Boston's Top Record Stores to help your record collecting while in Boston.
Detroit Michigan
Curbed Detroit gives us Detroit's Record Stores, Mapped   Published in April 2017 its a cool presentation of what Detroit has to offer with both photos and a handy map so you can plan your own tour.
Here's another article on Detroit from the Red Bull Music Academy Daily Counter Intelligence: Detroit from May 2016 with 4 of the best Detroit has to offer.
Or if you are looking elsewhere in Michigan, My Michigan Beach.com offers 15+ Rockin' Record Stores In Michigan   Last updated in 2022, it provides recommendations all over the state, but you'll have to find pictures on your own.
Minnesota
Here's a 2018 article  Top 3 Stores For Vinyl Enthusiasts In Minneapolis published by CBS Minnesota on September 26, 2018.
And from Minnevangelist a January 29, 2020 article titled Reasons To Love Minnesota No. 140: The Vinyl Scene which offers their take on 15 record shops to visit when visiting the Twin Cities.  How could you not take a look at a list that features of clip from High Fidelity?
And here's a more recent article The 9 Best Record Stores in Minneapolis & St. Paul published on Discover the Cities on July 3, 2020. 
St. Louis Missouri
The Riverfront Times give us this March 2016 article   7 Record Stores Every St. Louis Music Lover Must Visit for your next trip to St. Louis.
Nebraska
From Hear Nebraska.org, results of a readers poll published on Sept. 25, 2013 of their top five favorite stores
New Jersey
An article in NJ.com by Bobby Olivier published April 17, 2015 titled 17 Enduring NJ Vinyl Shops Ready For Record Store Day gives you, surprise, a list of record stores to visit in Garden State.
From NJ Next.com comes Vinyl is Not Dead, at Least Not in Jersey: 20 Independent Stores You Want to Visit published on February 11, 2018.  Helpfully organized geographically by Northern, Central and Southern Jersey.
North Carolina
From Offline Raleigh comes Vinyl Lovers: The Best Record Shops In The Triangle which gives you a list of stores to visit when in Raleigh and Durham North Carolina.
From Clture.org comes this April 2019 piece North Carolina Has Several Great Independent Record Stores covering 12 stores throughout the state, in Raleigh, Durham, Charlotte, Asheville, and Wilmington-Salem, among others.  I've been to Bull City (Durham), Lunchbox (Charlotte) and Repo (Charlotte), all on this list and all worthy.  
Ohio
Cleveland?  Akron?  Ohio?  From Cleveland.com (think they know Cleveland?) comes 17 Great Independent Record Stores In Cleveland, Akron and Beyond published in December 2015.
CBS.com published their own list in April 2015 of the  Best Record Stores In Cleveland.
And City Pulse published this handy Columbus On Vinyl which will guide you to the area's finest stores if you're thinking of digging in nearby Columbus.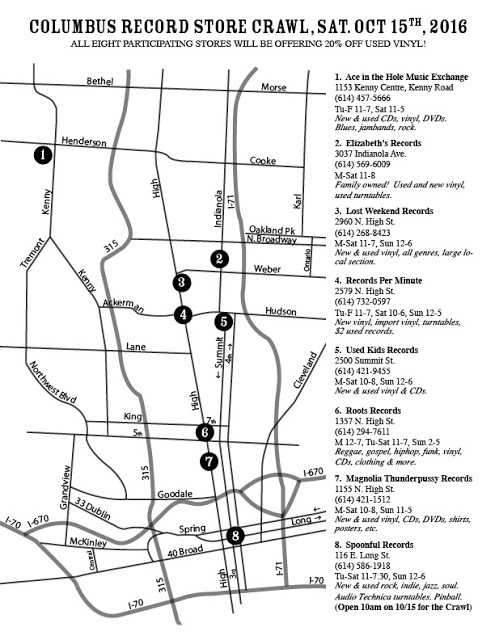 And here's a handy map from Spoonful Records from 2016 of the best Columbus has to offer.
Cincinnati Ohio
6 Amazing Record Stores You Should Hit Up In Cincinnati from Cincinnati Refined in November 2016 tells you where to go for your vinyl when you're in Cincinnati.
Portland Oregon
Portland is loaded with record stores.  They're everywhere.  A Guide To Portland's Record Stores appeared in Willamette Week of all of Portland's record stores.  Initially published in 2015, this guide was updated in January 2017.  There are sooooo many record stores in Portland that they also publish a handy map – Portland Guide To Independent Record Stores – with locations  so you can find them yourself.  Here's the 2012 guide.
Rent.com recently published this  list of their 7 favorite record stores in Portland in December 2019.  Fun fact – Portland is the  home to Discogs, one of the vinyl lover's favorite websites.
Pittsburgh Pennsylvania
From Whats Next for Pittsburgh, here is Digging for Wax: the Next Guide to Independent Pittsburgh Record Stores published April 14, 2015.  Whatever you do, make sure you stop by Jerry's Records.  Even though Jerry has retired, its still an experience not to be missed.
And here's a more recent survey of the best Pittsburgh has to offer.  From Nashuproar.com comes Hidden Gems: Pittsburgh's Best Record Stores an April 8, 2022 article featuring their top ten list, rightly touting Jerry's as the best of the bunch.
Philadelphia Pennsylvania
10 Amazing Philly Record Stores To Shop This Weekend from Philadelphia Magazine in April 2016 introduces you to outstanding record stores in  Philadelphia.
Here's The Five Essential Philadelphia Record Stores For Building Your Vinyl Collection from the 34th Street Magazine of UPenn, published in January 2019.  I'll let you know what I think of its recommendations, because I'm going to use it in a couple of weeks on my next trip to Philadelphia.
Rhode Island
Road trip to Rhode Island?  Best Things Rhode Island gives you their view of the record stores you should visit on your trip in their list of the 10 Best Record Stores in Rhode Island.  Personally, I've been to two of them, Olympic Records in Providence and Vinyl Guru in Newport, which you will find in the Record Shops section of our site.
Texas
You would expect Austin Texas, the great music town it is, to have any number of great record stores.  Here's a list of 12 of the city's finest from the Austin Chronicle Guide To Austin Record Stores published in August 2017.
Austin Curbed gives you Austin's Record Stores, Mapped from 2019, which lists 12 of Austin's finest, and gives you a handy interactive map to guide your tour.
Houston's Top Ten Record Stores published in the Houston Press in August 2016 features – you guessed it – 10 great record stores in Houston.
And from the Dallas Observer, their Top Ten list of must visit record stores in Dallas-Fort Worth published in July 2016.
The San Antonio Current published this March 11, 2020 article titled San Antonio Record Stores which organized the cities' record stores by levels – for the beginner, intermediate and advanced – a clever idea.  Which would you visit first? 
Salt Lake City Utah
From Saltplatecity.com comes this March 2019 Article  listing 4 great record stores to seek out in Salt Lake City Utah.
Washington
Four Snapshots Of Spokane's Booming Record Store Economy from the Stranger in April 2017 shows you where to dig if you're off to Spokane Washington.
From David Segal at the Stranger.com comes 5 Best Places to Buy Vinyl in Seattle, published in December 2017.   The Stranger followed this up in 2019 with a readers poll in 2019.  With over 5400 people voting, the winners were Daybreak and Easy Street.
And here's DO206's take, Seattle's Best Record Stores featuring 17 of the Seattle area's finest.
Washington D.C.
Here's another handy map, this time of Record Stores of Washington DC from 2013.  Crooked Beat has moved.  Info on their new location can be found on our post describing my visit to the store.
Here's an April 2017 article from Curbed Washington D.C. 10 Record Stores in D.C. Area Worth Searching For which features 10 of Washington's top offerings, and has Crooked Beat at its new location.
Wisconsin
From Whoo New (Discover Northeast Wisconsin), is a July 30, 2013 post from Gracie Savides, Five Rockin' Independent Record Stores in Northeast Wisconsin .
From Madison.com comes Prowl the stacks of wax on Record Store Day with a list of 11 stores to visit when you're in Madison.  Be careful, as this article is from 2011.
And On Milwaukee.com gives you 11 places to feed your vinyl addiction on Record Store Day a 2019 guide to the shops of Milwaukee.
Best Record Stores –  Global
These articles recommend stores throughout the world.  For articles that just focus on a particular country, keep scrolling.
Buzz Feed/ August 16, 2013/ Maria Sherman gives you a list of Best Record Stores Around The World .  Featuring 27 different stores throughout the world.
Flavorwire give us this Jan. 28, 2013 article by Tom Hawking The Most Beautiful Record Stores In The World featuring 10 record stores throughout the world.
Vinyl Factory gives us 50 of the World's Best Record Shops.  I'm never going to get to many of these places myself, so I guess I'll just have to take their word for it.
Thump published its list in April 2017, titled Here's 17 Record Stores You Should Visit Before You Die featuring 17 stores throughout the world you must see.  (I've been to three).
By Country (Alphabetically)
Australia
The best of what Sydney Australia has to offer can be found in this handy guide 
Diggin' Sydney
.  You can download a copy from the site, or click 
here
.  A regularly updated guide, this one is from 2022.
Vienna Austria
From Vienna Wurstel Stand (fear not its in English) comes this June 4, 2019 Guide guide to the stores you should visit when visiting Vienna.
Canada
Maybe you're off to Canada?
This list of the  Top Record Shops In Toronto was published on theculturetrip.com in Oct. 2016 by Alix Hall.
Here's Indie Guides' June 2017 Article featuring 6 of Montreal's finest.  Maybe you can find a copy of the Ugly Ducklings' Nothing.
Time Out – Montreal offers this 2020 article The Best Record Stores in Montreal with Choice Vinyls, CDs, tapes and more  which features the best and the rest of what Montreal has to offer.  Isn't the plural of vinyl vinyl?
And you can't forget Vancouver.  A Guide To Hunting Vinyl In Vancouver lets you know where to shop when you're in Vancouver – from the Ubyssey in March 2017.
From the Daily Hive comes their recommendation of 10 record stores you must visit in Vancouver published on October 31, 2016.   And from Vancouver Is Awesome comes 12 local record stores that vinyl aficionados will adore  published on April 21, 2018.
CITR Discorder 101.9 FM and Cian Hogan give us this handy map of Vancouver's stores prepared in 2018.  21 stores is damn impressive.  (You might find a clearer copy of this map on their site, linked to above).
Step Inside These Noteworthy Record Stores Across Canada, from Red Bull Music in August 2018, introduces you to 10 record stores throughout Canada.
Helsinki Finland
From the website Myhelsinki.fi comes Record Stores In Helsinki to help guide your record shopping in Helsinki Finland.
And here's a handy map from the people at VinylHel of Helsinki's record stores.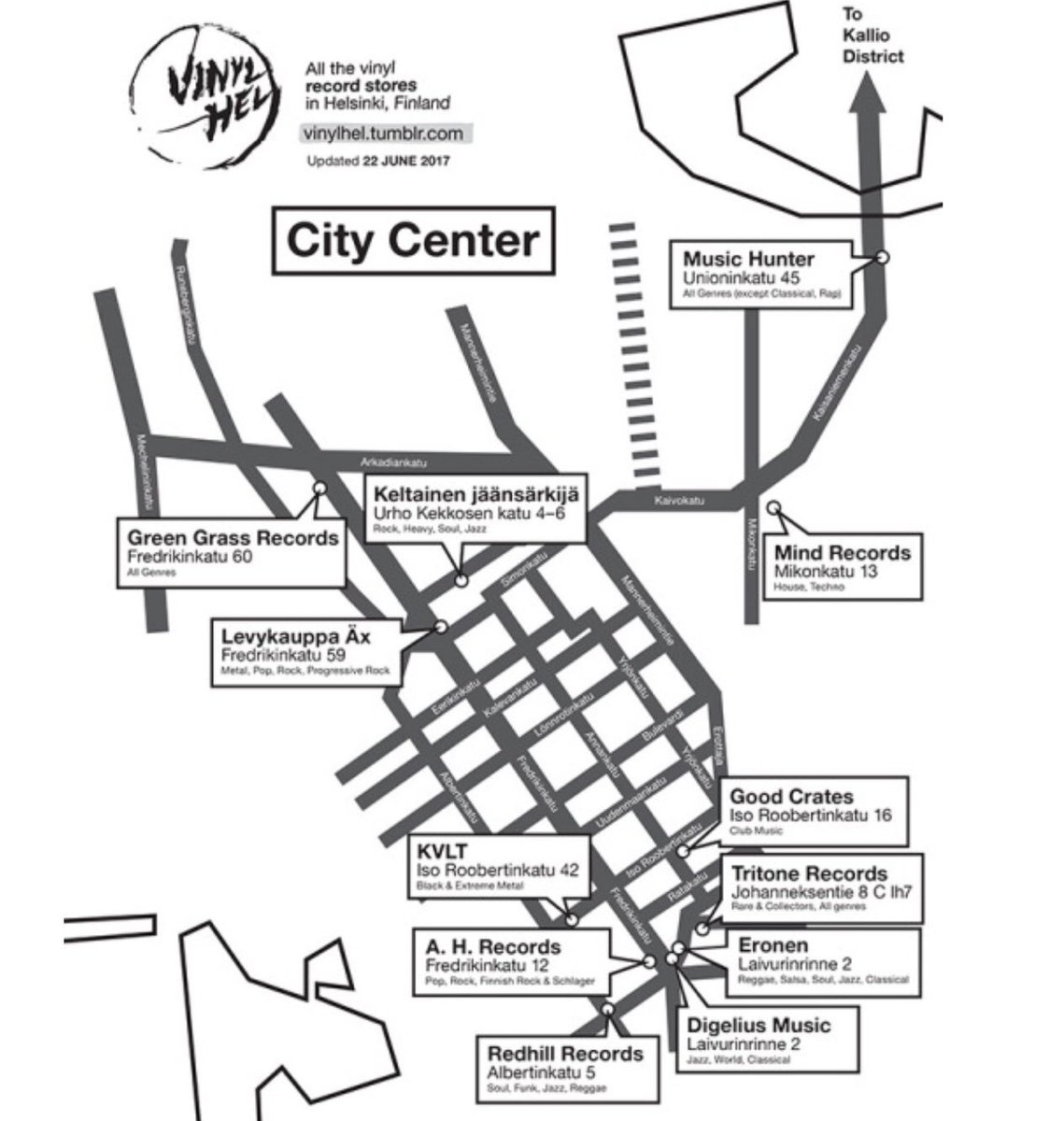 Paris France
The Culture Trip covers Paris with The Ten Top Record Stores In Paris updated in February 2017.
And here's a more recent article from the Discover Walks Blog,  8 of the Coolest Record Stores in Paris published in November 2019.
Marseille France
Yes, there's (much) more to France than Paris.  If you're headed for Marseille, Long Live Vinyl gives you their August 2018 Record Store Guide To Marseille.  Here, Mark Elliott touches down in Marseille, and surveys its record stores.  How come no one ever pays me to do that? 
Germany
Bimm Cities published this list in December 2017 of Hamburg's Top Five Record Stores with links to each of the store's websites.
From Top 10 Berlin comes its Top 10 List  of stores to visit while in Berlin.  Top 10 advises that in addition to a store's music selection "As record store employees are considered rather grumpy, friendliness was taken in consideration as well and the nerd factor was included also."  I know a number of stores that would be excluded if you were considering this (no, I won't name names) .
And here's a video tour of Berlin record stores from FactMagazine that's on YouTube Berlin's Best Record Stores – with Braiden.  Shot in 2013, a record DJ takes you to some of his (recent) favorites.  The video editing is way cool.
Great Britian
The Guardian provides a list of its 10 Favorite Record Stores in Britain courtesy of their readers, dated Mar. 29, 2013.
Wales
From Wales Online comes the 9 Best Independent Record Shops In Wales published in February 2015.
Scotland
In April 2017 iNews the Essential Daily Briefing gave us The Top Record Shops In Edinburgh – No Matter What Your Taste .
Budapest Hungry
OffbeatBudapest.com gives us this handy list of the 10 Finest Record Stores in Budapest published in October 2019.  If you've heard of any of the records they discuss (with reverence) in this article, you are a better man than I.
Japan
Hive Life gives you this July 23, 2021 article with their selection of The Top 5 Vinyl Stores in Tokyo.
Or perhaps The Biggest Guide To Tokyo Record Stores On The Internet published by Mostly Retro in October 2016.  Someone has to be the biggest, right?
If you're going to go, you need to get the Record Map, a handy book that lists (all?) of Japan's record stores.  You'll need to be able to read Japanese though.
If you're into house and techno, and going to Osaka, then this list 10 Record Shops That Make Osaka A Crate Digging Paradise published by Electronic Beats is for you.
If not Osaka Record Shopping – The Inside Track published by Odigo in October 2016 is the list for you.
And here are some handy record maps to take with you while you dig.
Lisbon Portugal
Hunting in Lisbon Portugal?  Here's the Vinyl Factory's 2014 list The Vinyl Factory Goes Record Shopping In Lisbon which feature 4 stores.
Barcelona Spain
Here's a list for your trip to Barcelona Spain.  The Eleven best Record Shops in Barcelona published in Foresquare.  I used this during my tour of record stores in Barcelona and can highly recommend it.  You can read about what I thought about Barcelona's Revolver Records, Daily Records and Wah Wah Records
Fun Facts
How many?
According to Discogs, the United States is country with the most independent record stores in the world, with 1482 stores at last count.  The United Kingdom was second, with 537, and Germany third with 453.   By city, Tokyo takes the crown with 93 record stores, followed by Berlin with 87 and London with 79 stores (sorry New York, we're only 6th on their list with 47 stores).  Check out the article for more fun facts, including the cities with the highest density of record stores within walking distance of each other (bet that will make you read their article!)  
Oldest
Wikipedia reports that "Spillers Records in Cardiff (the capital of Wales), founded in 1894 by Henry Spiller, is reputed to be the oldest record shop in the world.   It originally specialised in the sale of phonographs, cylinders and shellac discs."  The oldest record store in the US is George's Song Shop of Johnston Pennsylvania, which opened in 1932.  John George, who runs the shop, took it over from his father and uncle.  The oldest store I've been to is Music Country, of Cliffside Park, NJ, which opened in 1934.
Per Vinyllives.com, the oldest known record is "Handel's "Israel in Egypt" –recorded on an Edison wax cylinder on June 28, 1888″ while the first million selling record was "the 1903 recording of "Vesti la Giubba", as sung by Italian tenor extraordinaire, Enrico Caruso."
For fun (this is the fun facts section no?) here is Caruso singing Vesti la Giubba.  The video is taken from the 1918 film "My Cousin" in which Caruso performed.
Biggest
Which store is the biggest?  Before it recently closed, that honor went to Amoeba Music's dearly beloved LA store.  It has 24,000 sq ft, and its own parking garage.
With its closing, you can go to Bengans, in Goteberg Sweden (700 sq. meters of records), Tower Records in Tokyo (yes, there is still one of those open) or Bananas Music in St. Petersburg, Florida.  Bananas is so big, it has two locations, a 6500 sq foot warehouse that is home to approximately 3 million records (no typo), and a second 10,000 sq foot location.
Best Sellers
Per Wikipedia, the best selling record of all time is Michael Jackson's 1982 hit, Thriller, which has sold over 47 million copies.  The best selling album in 2019 was the Beatles' Abbey Road.
I Used To Be
And here's a list of rock stars that changed their name:
Paul David Hewson            –   Bono
Robert Zimmerman           –    Bob Dylan
Declan McManus                –    Elvis Costello
Marvin Lee Aday                –     Meat Loaf
Steven Victor Tallarico      –     Steven Tyler
McKinley Morganfield       –     Muddy Waters
Grace Barnett Wing             –     Grace Slick
Farouk Bulsara                     –      Freddie Mercury
Joachim Krauledat               –      John Kay (Steppenwolf)
Patricia Andrejewski          –       Pat Benatar
Martyn Buchwald                –       Marty Balin
Richard Starkey                    –       Ringo Starr
David Robert Jones              –        David Bowie
Vincent Damon Furnier      –        Alice Cooper
Most Expensive Ever
Wu-Tang Clan: Once Upon a Time in Shaolin – $2 million
This one was bought in 2015 by since convicted Turing Pharmaceuticals CEO Martin Shkreli.  As a result of his conviction, the record was seized and is presently a guest of the government.  This is the one and only copy of this record, which was recorded in secret over 6 years from 2008-2013. 
The rap record came with a contract that specifies that the owner cannot sell or attempt to make money from the album for 100 years, though he can release it for free. 
Here's a picture of the album cover in which this record is stored.  You can hear some of it on YouTube.
The second most expensive record ever sold is also a one-of-a-kind.  As some of you might know, when the Beatles released their White Album, it originally came with numbered editions with the words The Beatles in raised letters on the cover (I have a German issue No. 0023879).  Ringo Starr reported had the edition labelled 0000001, which he sold in 2015 for $790,000.  He used the proceeds for charity, donating them to his Lotus Foundation.
For more, you can go to Paste magazine's recent article Here Are the 50 Most Valuable Vinyl Records on Earth from September 2019.
How Do You Say
Where is the record store? in
    où est le magasin de disques?  (French)
    где находится магазин звукозаписей (Russian)
    donde esta la tienda de discos (Spanish)
    レコード店はどこですか  Rekōdo-ten wa dokodesu ka  (Japanese)
   όπου βρίσκεται το κατάστημα ρεκόρ
   ópou vrísketai to katástima rekór (Greek)
    Wo ist der Plattenladen?    (German)
     ble mae'r storfa recordiau  (Welsh)
     dov'è il negozio di dischi  (Italian)
      hvor er platebutikken (Norwegian)
Record Stores In The Movies
"Record stores can't save your life. But they can give you a better one." ~ Nick Hornby
 High Fidelity – Championship Vinyl 
This fictional store was filmed in Chicago's Wicker Park.
Here's a scene from the movie, where the clerks are acting as record snobs.  Would Jack Black sell his Captain Beefheart's Safe As Milk to you?
Set in England in the not then to distant future, Alex (Malcom McDowell) picks up some pretty girls in the record shop to Beethoven's Fifth.
3.  Pretty In Pink – Trax
Molly Ringwald, Jon Cryer and Annie Potts listen to Otis' Reddings Try a Little Tenderness in this 1986 John Hughes directed flick.
Musicians In The Movies
Many of our favorites have tried their hand at film.  Here's a partial list of musicians appearing on the silver screen (no, movies about the artists, or with them playing themselves – like the Beatles in Help, or the Plimsouls performing A Million Miles Away at a party in Valley Girl – don't count).  Some are blink and you'll miss them cameos, while others are supporting and even lead roles.
Cher – Moonstruck (1987)  (for which she won an Oscar) Mask (1985)
Barbara Streisand  – Funny Girl (1968) (also an Oscar winner), What's Up Doc (1972) and The Way We Were (1973) among many others.
Lady Gaga – A Star Is Born (2018)
Madonna – Desperately Seeking Susan (1985) A League of Their Own (1992)
Dolly Parton – 9 to 5 (1980) Steel Magnolias (1989)
Frank Sinatra – From Here To Eternity (1953) Ocean's Eleven (1960) The Manchurian Candidate (1962) Von Ryan's Express (1965) among many others
David Bowie – The Man Who Fell To Earth (1978)
Kris Kristofferson – Cisco Pike (1971) Pat Garret & Billy The Kid (1973) (also featuring Bob Dylan as Alias and his memorable lines "Beans.  Beans.  Spinach.  Beef stew.  Fine Quality Tomatoes.  Beans.") Blade (1998) Payback (1999) among many others.  Yes, before he was an actor, he was a musician – and wrote Me and Bobby McGee, made famous by Janis Joplin.
Bette Midler – Down and Out in Beverly Hills (1986) The First Wives Club (1996)
Whitney Houston – The Bodyguard (1992)
Meat Loaf a/k/a Marvin Lee Aday – Rocky Horror Picture Show (1975) Fight Club (1999)
Beyonce – Austin Powers/Goldmember (1992) (which also had an appearance by Britney Spears as a fembot)
Flea – The Big Lebowski (1998) (also with Aimee Mann – she's the one who gives up her toe)
Art Garfunkel – Carnal Knowledge (1971)
Paul Simon – Annie Hall (1977)
David Johansen – Scrooged (1987)
Tina Turner – Mad Max Beyond the Thunderdome (1985)
Lenny Kravitz – The Hunger Games
Sting – Dune (1984)
Mos Def/Yasiin Bey – The Italian Job (2003)
John Doe (of X) – Road House (1989)
Harry Connick Jr. – Copycat (1995) Independence Day (1996)
Ricky Nelson – Rio Bravo (1959)
Ice Cube – Boyz N The Hood
Debbie Harry – Hairspray (1988) Videodrome (1983)
Jon Bon Jovi – Pay It Forward (2000)
Common – John Wick Chapter 2 (2017)
Courtney Love – The People vs. Larry Flynt (1996)
50 Cent – Southpaw (2015)
Willie Nelson – Thief (1981) Dukes of Hazzard (2005)
Tom Petty – The Postman (1997)
Billy Idol – The Wedding Singer (1998)
Bruce Springsteen – High Fidelity (2000)
Tom Jones – Mars Attacks (1996)
Bo Diddley – Trading Places (1983)
Phil Collins – Hook (1992)
Nancy Wilson – Fast Times At Ridgemont High  (1982)
Blink 182 – American Pie (1999)
Alex Van Halen – Robocop (1987)
Anthony Kiedis of the Red Hot Chili Peppers – Point Break (1991)
Michael Jackson – Men in Black II
The Chains That Died
Who'd of thought?  Record retail was at one time dominated by massive chains.   Everyone thought the little guy didn't stand a chance.  In Greenwich Village, right around the corner from the massive Tower Record store on W 4th was Other Music, a vital, but single store independent.  But other music was standing long after Tower left us.
Tower Records – this was my favorite chain store of all time.  Founded in 1960, at is peak, it had 200 stores in 30 countries.  And Dave Grohl, the Foo Fighters front man and former Nirvana stalwart, worked there.
Sam Goody – Founded in 1951 by Sam "Goody" Gutowitz,  the store first operated in NYC.  At the time he sold it in 1978, it had 26 stores.  Under his leadership, the store reported had some great promotions – including giving away record players, silver dollars (if you spent $15) and JFK half dollars (if you spent $10) to purchasers.  It was eventually acquired by Musicland, and at its peak had some 800 stores.  Now, there are reportedly but 2 that (as of 2019) operate under the Sam Goody name (some others became f.y.e. stores along the way).
A Question
Do you file your Led Zepplin records under L or Z?
Conclusion
Been to any of these stores?  Know the author?  Give a shout out and help your fellow collectors (unlike Johnny Cash, I've not been everywhere man).