Record Mart Times Square Subway Station New York City
Closed – Untapped New York reports in this June 10, 2020 piece that the Covid got the Record Mart in their article Closed: Record Mart, Manhattan's Oldest Record Store Located in Times Square Subway Station.
The owners posted this note to their customers in the store's windows: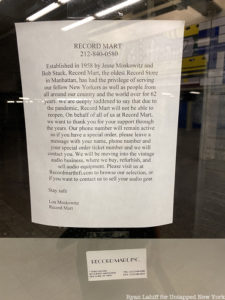 Here's what I wrote when I originally visited the shop in August 2012 –
featuring Latin and Jazz CDs, including Salsa.  So I ran down the steps to the 7, the doors open and jump into the train – only to find that it isn't going to go anywhere due to signal problems.  Off the train, up the steps, I get onto the Shuttle instead to Times Square – which I never do.  Get out, head for the 1 and what do I see?  Yup, the Record Mart – underground in Times Square Subway Station.  Salsa blaring on the video screen.  CDs only, but a nice collection if you like Latin or Jazz.  Happy hunting.
Want to see something else?  I've put together a list of the Top 110 Songs of the 1960s complete with You Tube videos so you can give a listen.  Are your favorites on the list?