Bull City Records, Durham, North Carolina
Open – 2600 Hillsborough Rd., Durham NC 27705
A long time ago and many moons I went to Duke. Bull City Records was not there then (it opened in 2005), but it is now (along with my son who's also going to Duke) so we stole a few moments. Its a smaller store that mostly sells new vinyl. It offers a good selection of records, including indie, garage, punk, psych, hip hop and rock.
Picked up some good stuff and heard about some more. Highlights included the New Pornographers – Mass Romantic, Muck and the Mires – A Cellarful of Muck (garage revival), Franz Ferdinand – Right Thoughts, Right Words Right Action and Blitzen Trapper – American Goldwing. You can hear the title cut of Right Thoughts below. Worthy of a visit.
Wanna go? You can find Bull City Records on our Record Stores Map
Here's an article that appeared in Indy Week in August 2016 A Decade In Bull City Records Keeps Booming interviewing the owner of the store Chaz Martenstein, about his store and its history.
And here's a video tour of the store's original location, upstairs on Perry street, when they mostly sold cds.
Why Bull City?
So, I had to know, why is Durham nicknamed the Bull City? According to Durham's governmental website, "Durham was nicknamed the "Bull City" in the late 1800s when the Blackwell Tobacco Company named its product "Bull" Durham Tobacco."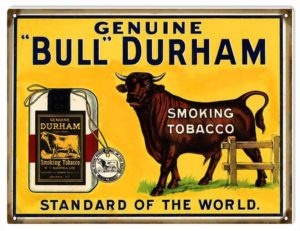 Franz Ferdinand – Right Thoughts, Right Words, Right Action
Here's Franz Ferdinand performing Right Thoughts, Right Words, Right Action from their 2013 album of the same name. A great guitar driven indie pop song, I think this is their best tune since their debut album, 2004's Franz Ferdinand. And no, no one in the band is named Franz Fedinand – that honor goes to the late Austro-Hungarian Archduke of the same name, whose murder sparked World War I.