Goner Records – 2152 Young Avenue, Memphis Tennessee  38104
Open
It's a store.  It's a label.  It's a store.  It's a venue.  It's a shrine.  It's one of Rolling Stone's top stores in the country.
Memphis is blessed with two of the top record stores in the US, Shangri-La Records and Goner.  One of its co-owners, Eric Friedl, started at Shangri-La, and moved to Goner to start a record label.  While not Shangri La's size, it had a nice selection covering the gamut, including a great selection of blues 78s of which I bought Little Walter's Juke (my favorite harmonica player).  Since I was in Memphis, I was looking for a Big Star record (one of the great under appreciated power pop bands that hailed from Memphis).  Found Thirds (pictured below) but settled on a Norton 45 of September Gurls and the Letter live from 1978 (Big Star's Alex Chilton was in the Box Tops when he was a teenager, and its lead singer).  If you don't know Big Star, you should give a listen – one of their songs was used as the theme song for that 70s show.
The Shrine – to Elvis – who also made his home in Memphis – is pictured below.  Apparently, it plays Elvis songs if you stick a quarter in.
Wanna go?  You can find Goner Records on our Record Stores Map


Here's a video tour of Goner Records, interviewing the store's owners Eric Friedl and Zac Ives about the store, their record label and its history.
And here's a 2011 article on the website Complex.com  Wax Nostalgic: 7 Questions With Zac Ives Of Goner Records Memphis interviewing one of the owner's of Goner Records.  I certainly have gotten laid to a record – my personal favorite is Santana's Abraxas.
Goner once had an in-store by local Memphis musician Greg Cartwright and his band Reigning Sound – then a first class garage revival band.  The show, performed on June 26, 2005 made it to disc, Live At Goner Records.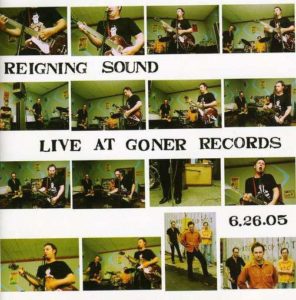 For fun, here's a You Tube video of the Big Star record I bought, of the band performing September Gurls at a rehearsal in 1974.