Moonshot Emporium – 316 Sea Cliff Avenue, Sea Cliff, New York 11579 Open
I travel throughout the US, and even abroad, in search of new and hopefully great, record stores. And here, in my own backyard, is one I never previously visited – Moonshot Emporium. Located in Sea Cliff (its on a cliff – facing the sea), Moonshot Emporium opened its doors in late 2020. It's actually three stores in one, with two being record stores and the third a purveyor of vintage clothing.
In addition to new and (mostly) used records of various genres, the store also sells or displays music and other nostalgic emphera. Of note, unlike many of the record stores I visit, there were some real collector items offered. They had an ample collection of 45s to go with their lps. And a way cool logo. The record stores are owned by Andrew Schipper (pictured in the video below) and Luca Williams (a high school student at the time of the store's opening).
And while you're there, you can visit beautiful Sea Cliff. You can start at Veteran's Memorial Park, where you can look out at the sea (okay its actually the Sound), over the cliff. Or you could go down to the beach and see the Sound close up – either on your way up to or down from the park. Or you could try to ride Prospect Ave. from the beach to the park on your bike, or even more impressive, from the flats to the park. The town itself is made up of low, old structures, with an arty feel, more akin to Hudson than your typical Long Island vibe. And there's usually some live music playing in town.
Wanna go? You can find Moonshot Emporium on our Record Stores Map.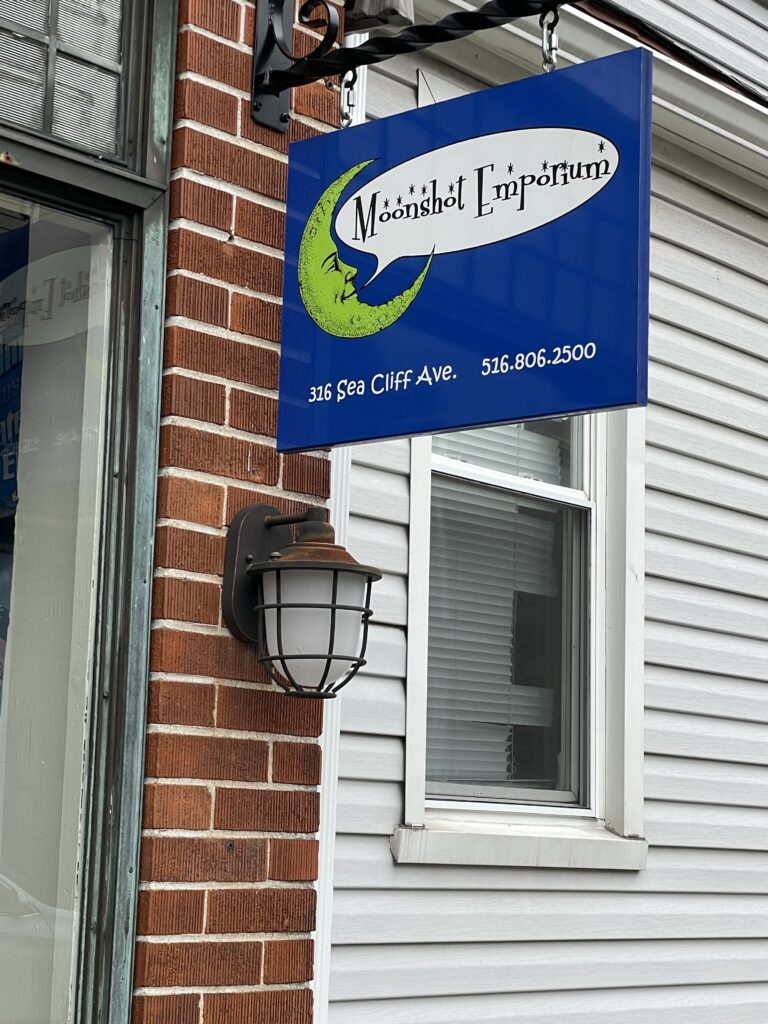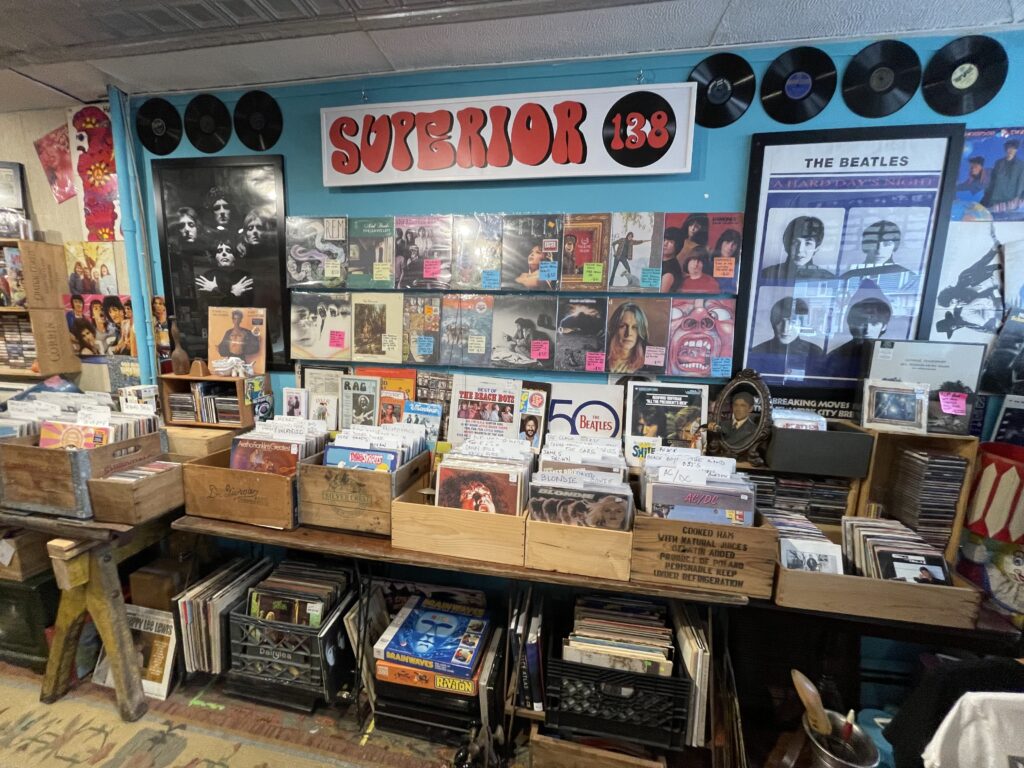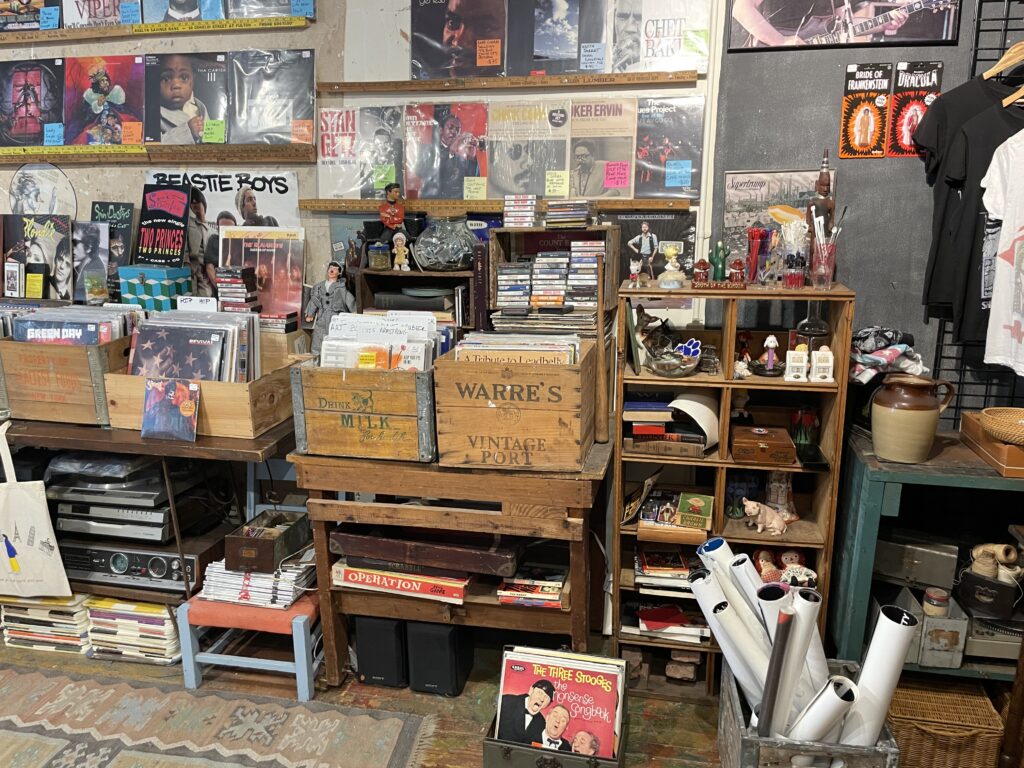 Here, one of the store owners, Andrew Schipper, is interviewed about the store and its offerings. The interview was done in store in November 2021 by the North Shore Hispanic Chamber of Commerce, so it will give you a better idea of what the store has to offer.
And here's a November 2020 article from the Long Island Herald Records and Vintage Clothing Co-op Opens In Sea Cliff announcing the store's opening and describing its offerings and owners.
Nick Drake – Pink Moon
One of the records being offered on my first visit was a first US pressing of Nick Drake's 1972 classic Pink Moon. The third of three full length lps he released in his lifetime, this record has long been on Rolling Stone's list of the greatest 500 albums of all time, reaching No. 321 on the original 2003 list, and No. 203 on the updated 2020 list. An English folk classic, it is simply Nick accompanying himself on guitar. No backing musicians, instruments or vocals. The tunes are routinely excellent, with harrowing lyrics reflecting his depressed state, over stellar finger picking guitar lines, and an understated, evocative vocal that lets the melodic tunes shine through.
Unfortunately, this record, like its predecessors, did not sell well during Nick Drake's short lifetime. Wikipedia reports that before the use of Pink Moon in a Volkswagen commercial, the net sales of all three of these records was approximately 4000 lps. But many of these lps have found their way into the hands of musicians who sing their praises – including Kate Bush, Paul Weller, the Black Crowes, Peter Buck (R.E.M.) and Robert Smith (Cure). And the Volkswagen commercial spurred interest in Nick Drake, and led to a ever widening audience.
I have picked my personal favorite – Parasite – which you can listen to below, but there are many equally worthly songs to explore if you are not already familiar with this album. Place to Be, Free Ride and From the Mornining are three more personal favorites. There is no known video of Nick Drake performing, so you will have to settle for the still photos featured below.
And yes, don't expect to find this record there anymore. I treated myself for a birthday present. Happy Birthday to me.
Letch Patrol – Ode To Fred
On my second trip to the store, I found this cool looking sleeve on a 45 I knew nothing about. One side featured Youth Gone Mad – Better Things and Motorcycle, and the second – featuring Fred Flintstone – was the Letch Patrol's Ode to Fred. The Letch Patrol was a late 80's band from NYC. The store kindly teed up the Ode, which was a great goth/punk tune from 1991. Heavy bass line, screaming buried lead vocal, and stinging guitar. Kinda the reason you go to record stores.
Anyway, Ode to Fred is not on either YouTube or Spotify. You can give a listen on Bandcamp by …. well you know.
Three Stooges – Curly Shuffle
But the Jump n' the Saddle band's Curly Shuffle – featuring clips from the Three Stooges is. For your viewing pleasure. Nyuk Nyuk Nyuk.