Radio-Active Records – 845 North Federal Highway Fort Lauderdale Florida 33304 – Open
Yellow. I could start this article with the fact that Radio-Active Records has long been named one of Florida's best, getting the nod from both Authentic Florida in 2020, and the Miami New Times in 2017. Or that it was founded in 1995, when it was named CD Collector, before it switched its main focus to vinyl, and became Radio-Active Records. Or I could mention the in-stores and meet and greets, or the excellent selection of used vinyl they offer. But I keep coming back to yellow. From the walls, to the floor, to the exterior, to Little Richard's iconic image from his Speciality records debut, Here's Little Richard, yellow is everywhere. Even the record dividers and rear of the store are – you guessed it – yellow.
But this store is more than a celebration of yellow. It has ample floor space, which contains its plentiful racks of lps. It also offers some cds and 45s. All the usual suspects are here, Rock, Pop, Indie, Alternative, House, Reggae, Classical, but more important for our discerning readers, the prices were quite reasonable.
Wanna go? You can find Radio-Active Records on our Record Stores Map.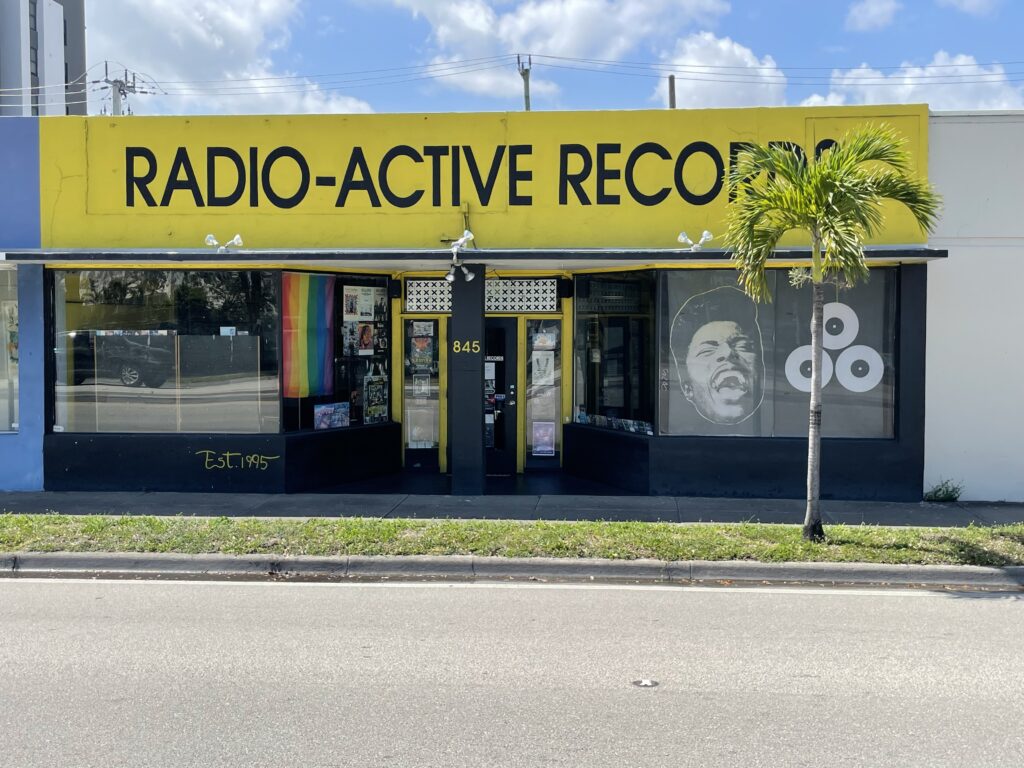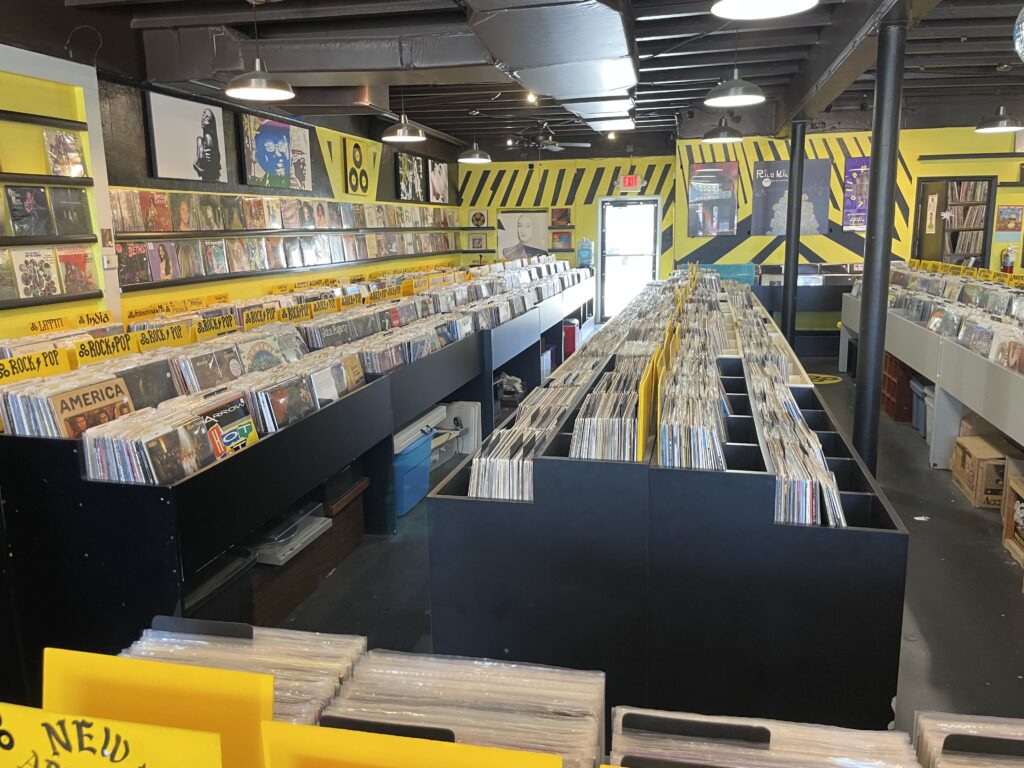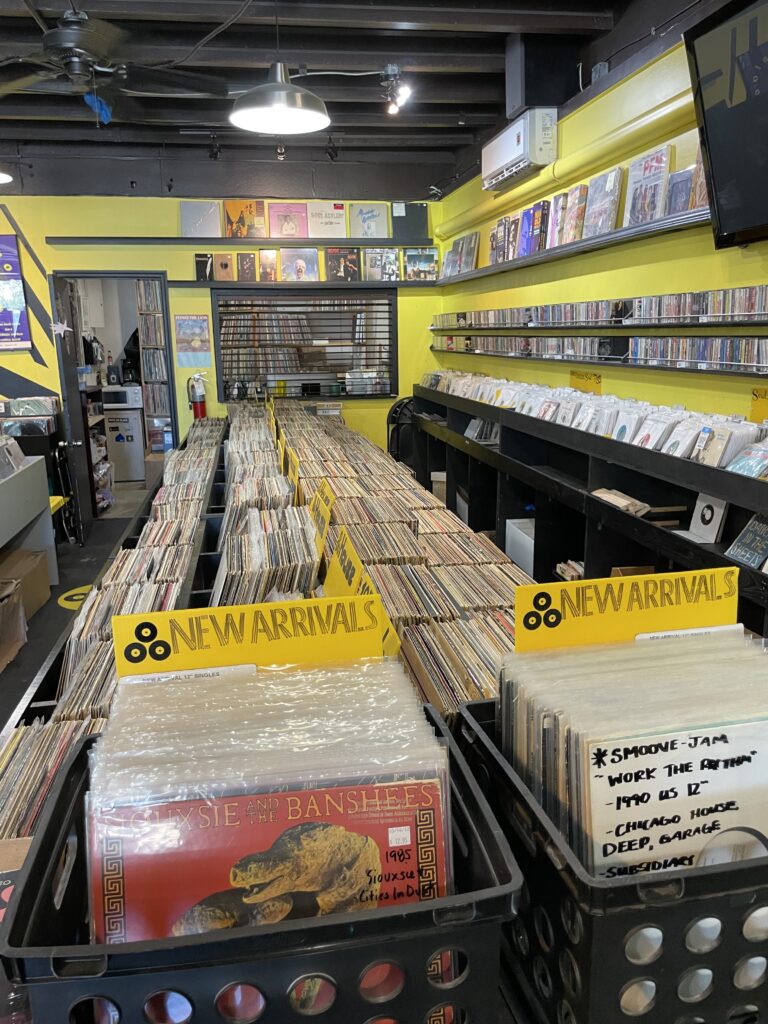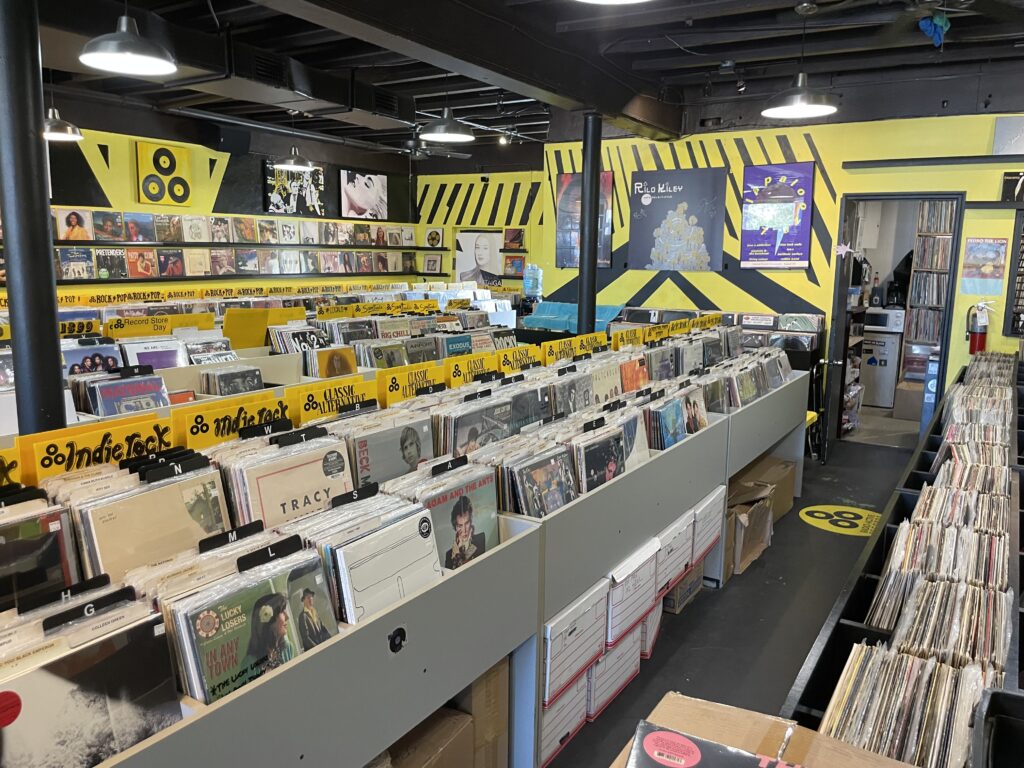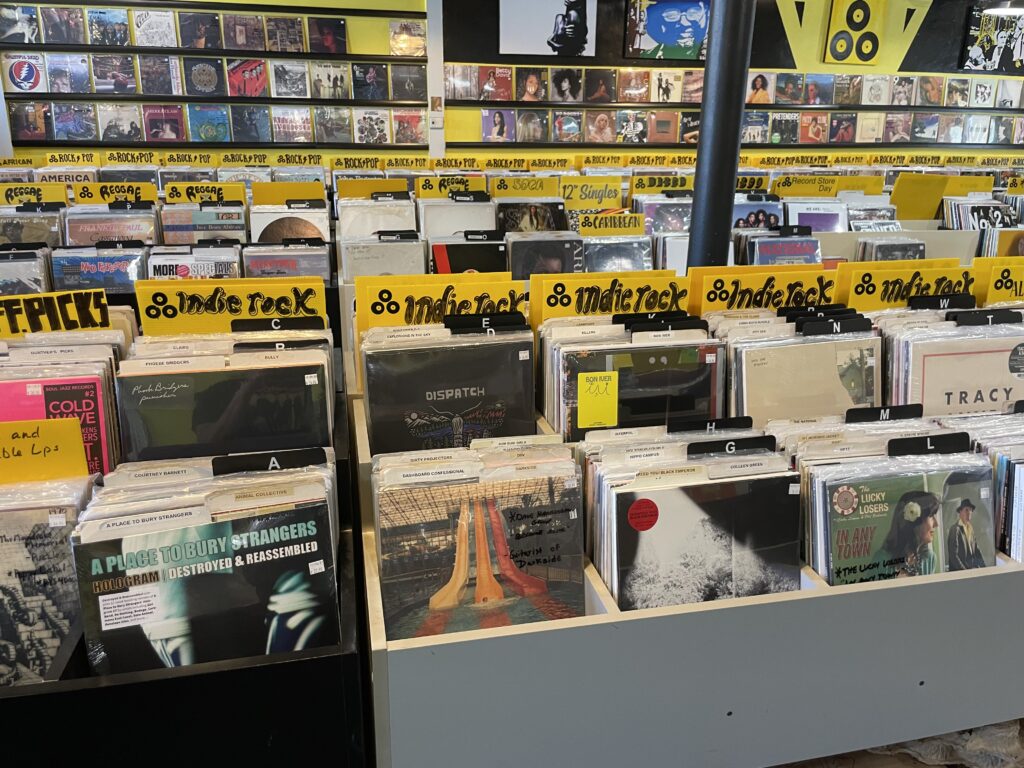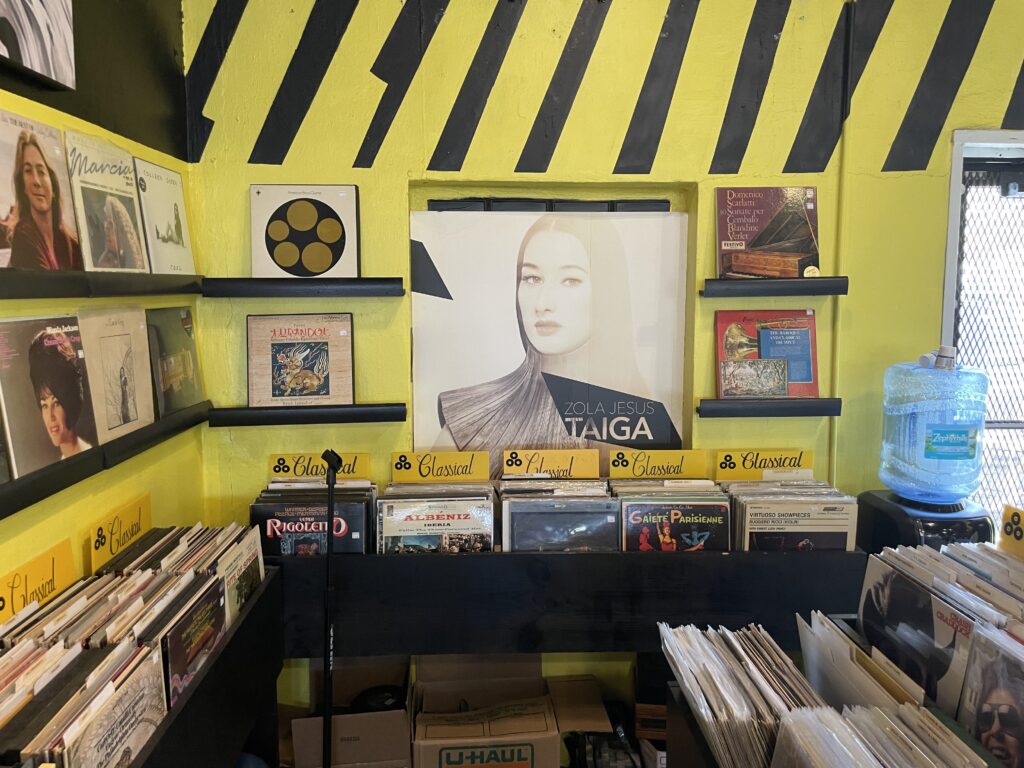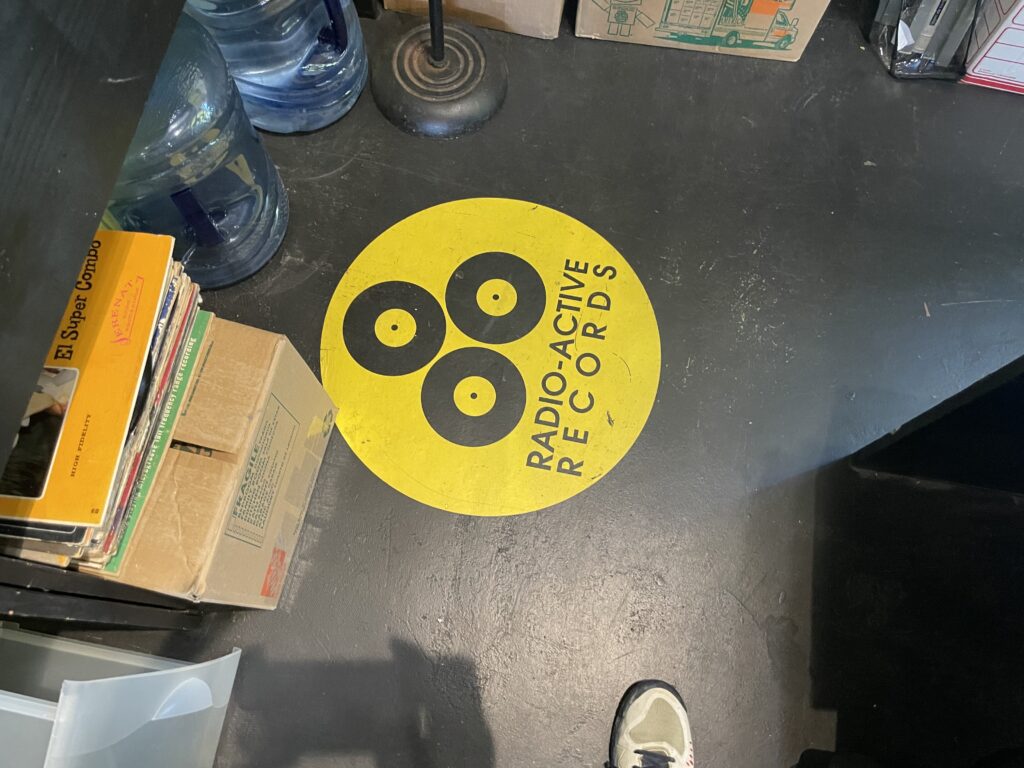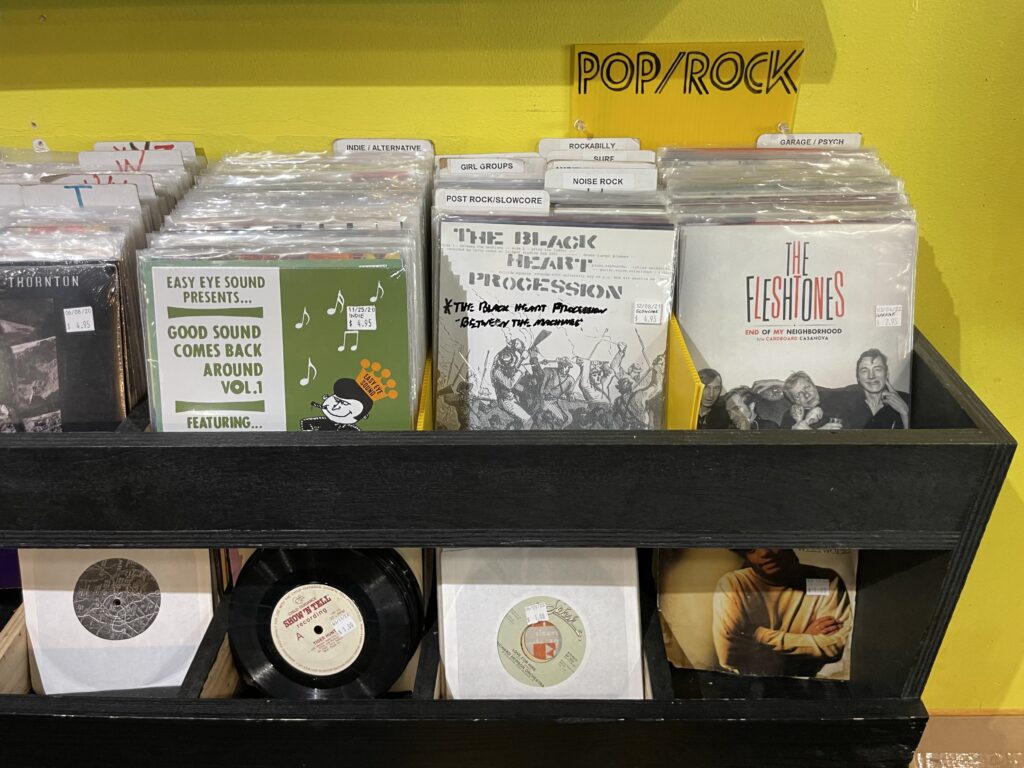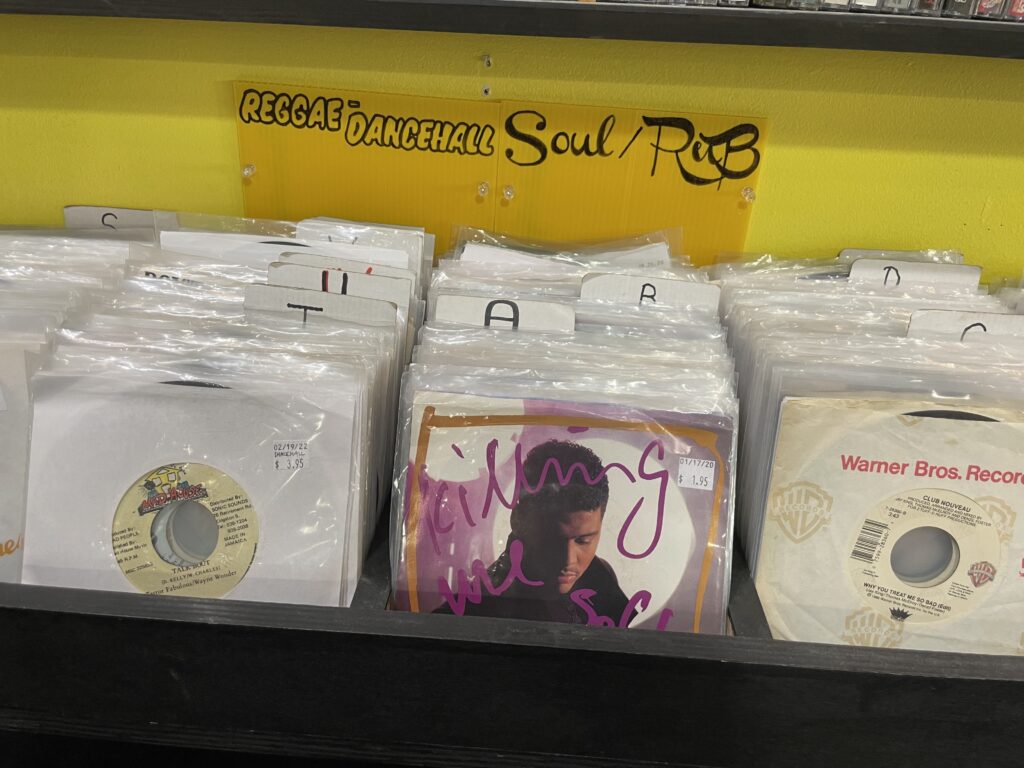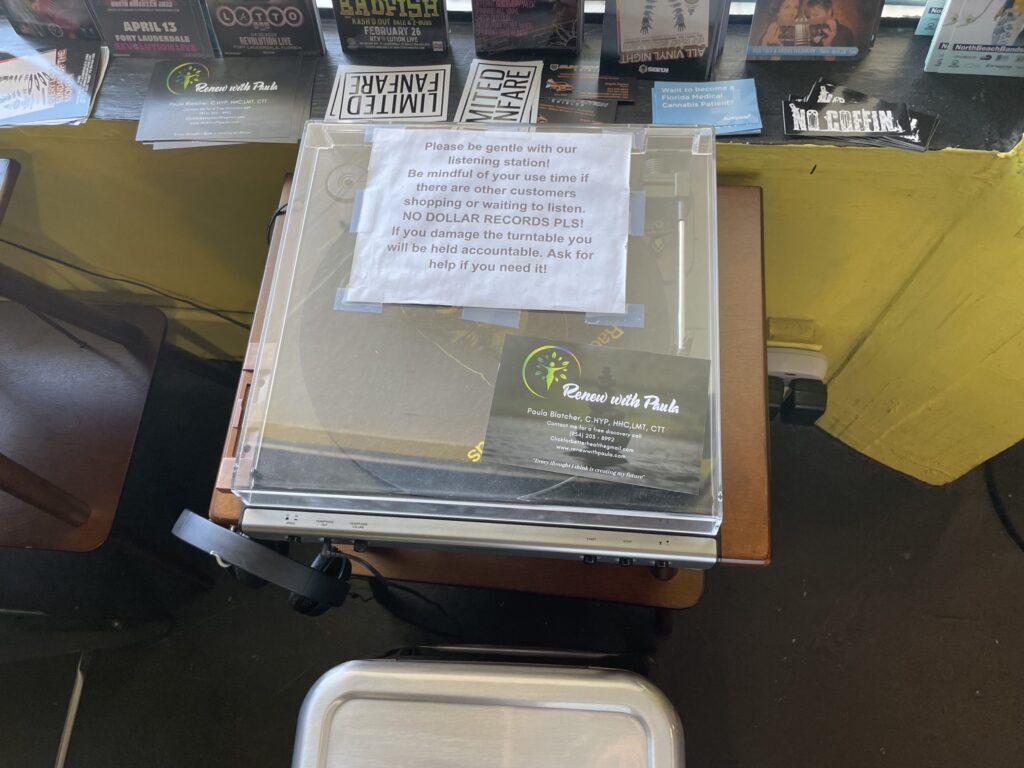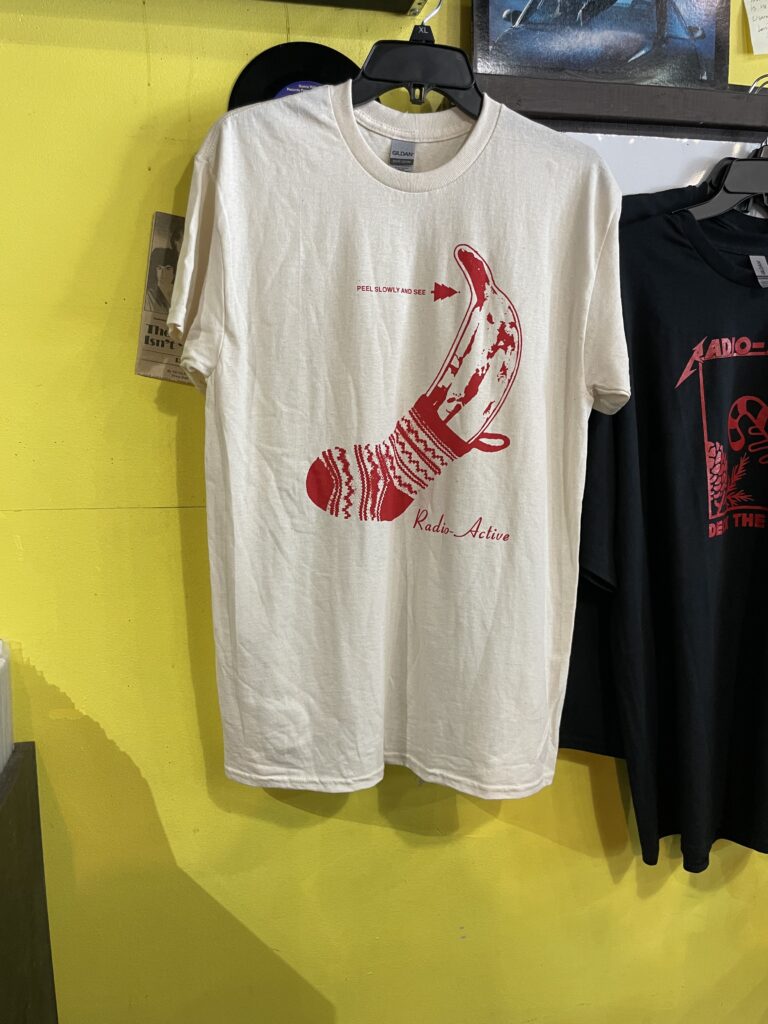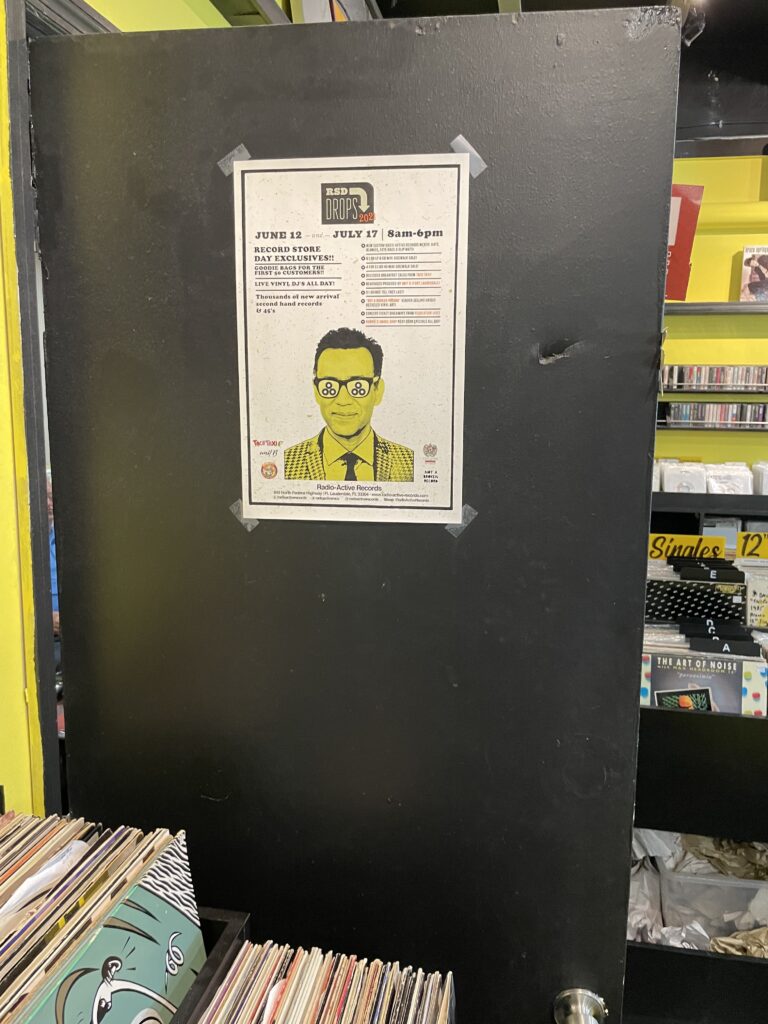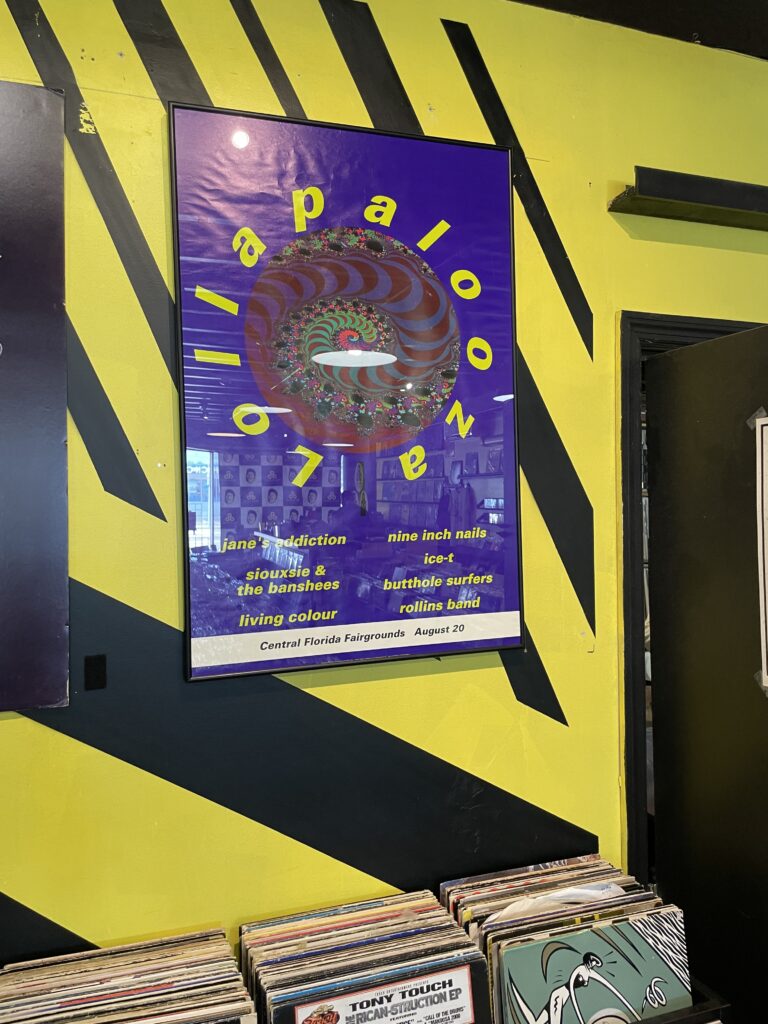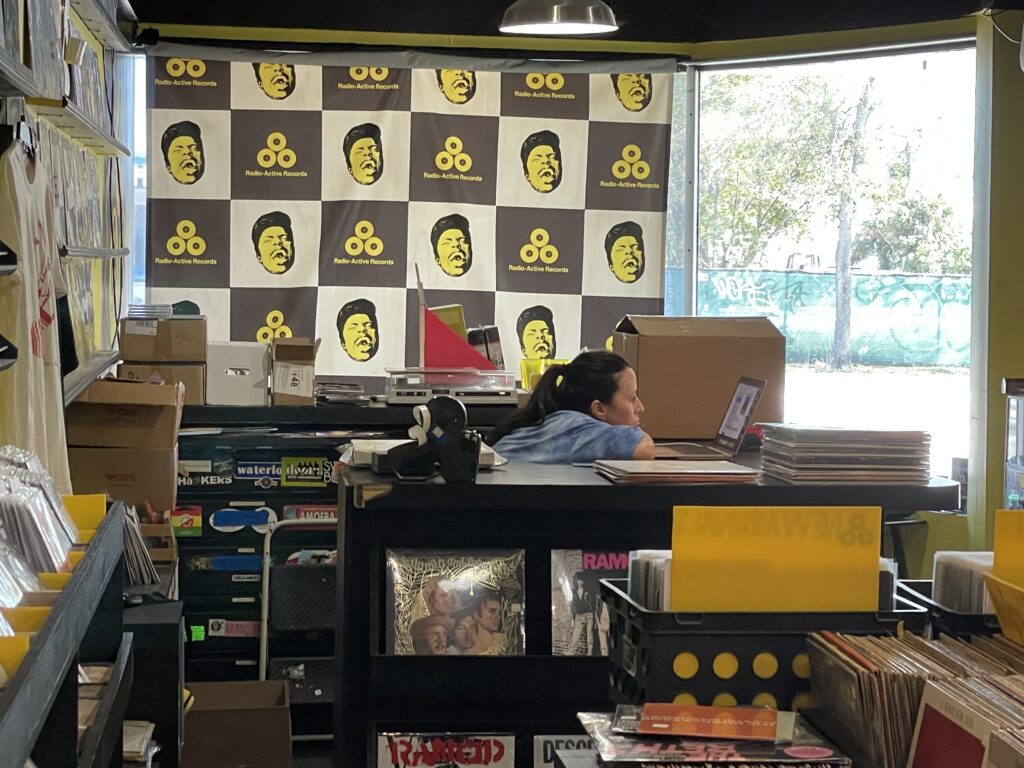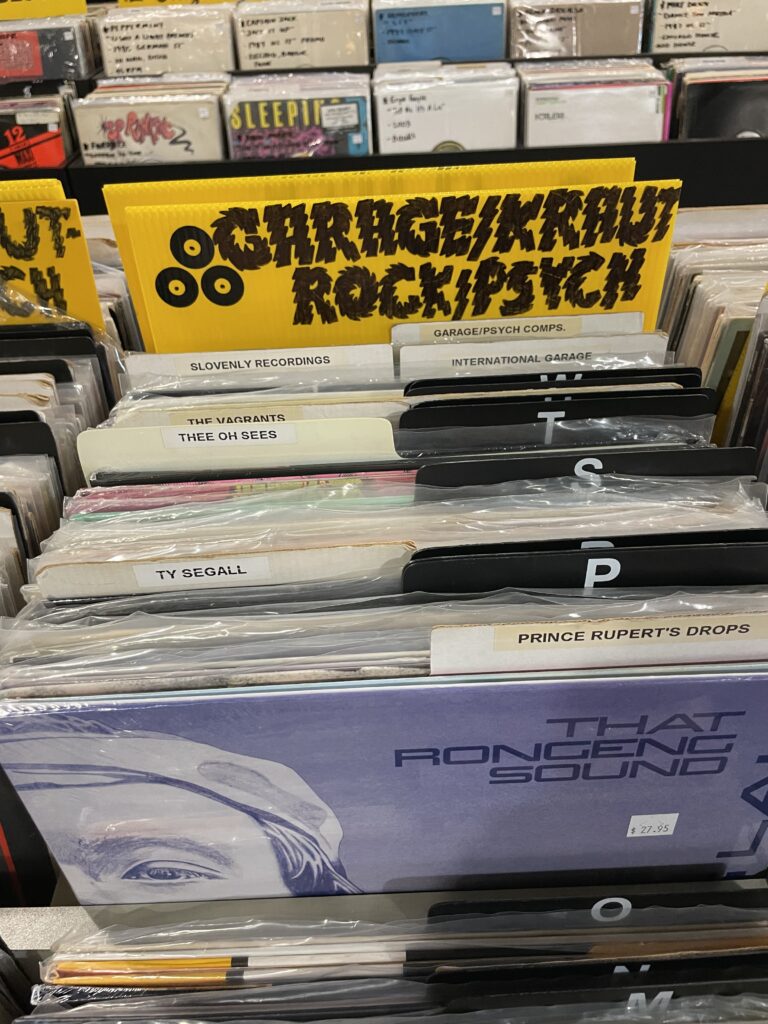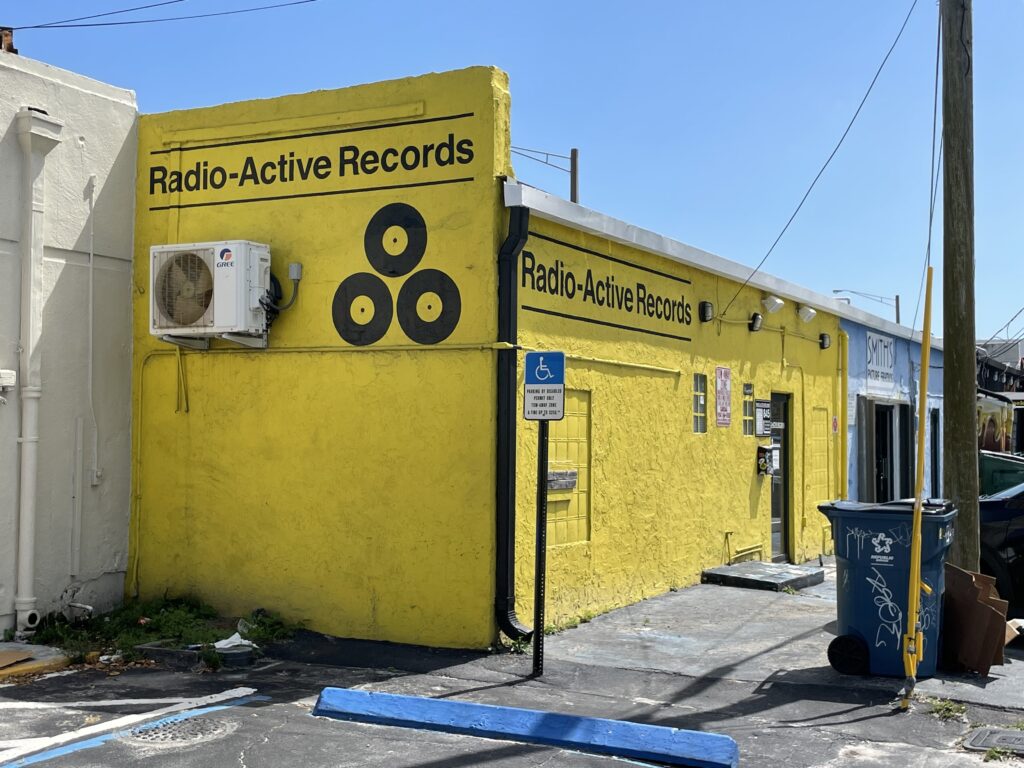 Here's a January 29, 2020 article that appeared in Voyage Mia(mi) Meet Sean Kayes of Radio-Active Records in Fort Lauderdale interviewing store owner Sean Kayes about the store and its history.
And another, that appeared on Woman In Vinyl in January 2020, interviewing store manager Natalie Martinez also known by her stage name Nat Smallish https://womeninvinyl.com/2020/01/25/natalie-martinez-radio-active-records about the store and its history.
Radio-Active's website reports that this version of their store may not be with us long. The site's home page reports the store will be moving to its new location in November 2022 at Imperial Square, 5975 North Federal Highway, Suite 130, Fort Lauderdale, Fla. 33308
Here's False Flags doing an in-store in January 2015. Sounds like early Cure to me, very goth rock.
While I was at the store, bought some nice late 70s punk records. But also bought some singles, including The Wrens – Napiers, and Belle and Sebastian – Jonathan David, both very worthy. I have long carried the Wrens in the back of my mind as a band I should explore, but never ran into one of their records.
The Wrens – Napiers
The Wrens are one of those sad rock and roll stories, the great band that should have been a contender, but didn't get the support it deserves from the record industry. From New Jersey, they put out three great indie rock records between 1994 and 2003. Napiers, from 1994, was their first single as the Wrens (they released a prior single as the Low) and is excellent guitar driven indie rock. It led me (and hopefully you) into a happy exploration of their catalogue, which deserves a listen or three. At least they got a Record Store Day re-release.
Here is the Wrens doing Napiers.
And for good measure, the Wrens doing Surprise, Honeycomb, which will let you see the lads in person (well, in a music video).
Belle & Sebastian – Jonathan David
Jonathan David is the best Belle and Sebastian song not written by Stuart Murdock. This one is by long time guitarist Stevie Jackson, who sings the lead, about losing the girl of your dreams to your best friend. But not to worry, it fits right in with Belle and Sebastian's sound.
From 2001, here's Belle and Sebastian's excellent music video for Jonathan David.