Lunchbox Records – 825 Central Ave., Charlotte, North Carolina 28204
Open
Charlotte has two great record stores – Repo Records, which we'll cover in another post – and Lunchbox Records. Both stores made Clture's August 2019 list of the best independent record stores in North Carolina. First opened in 2005, Lunchbox Records moved to their present location in 2016. As you can (and hopefully will) see, its a large store house in bright blue, dominated by a super robot (who's connection to a Lunchbox escapes me).
Unlike most stores I've been to, this one focuses on newer records. While it has all genres, it has a large number of more current alternative/indie/punk releases, unusual for a used record store. You can try before you buy at its listening station. Lunchbox Records also runs a small label, focusing on local punk records. The store proper has a stage, where they have hosted a number of in-stores.
While I was there, I focused on newer 45s, which were plentiful. Picked up two Elliott Smith singles, including Needle in the Hay (one of my favorites), the Arctic Monkeys Fluorescent Adolescent, and the Bouncing Souls' Johnny X (a New Jersey punk/pop band), among others.
The store also sells some great bling – including a way cool selection of store t-shirts (you'll see my selection below) and a robot themed 45s adapter.
As for the store's color? Wishart explained to Charlotte Observer "What's the brightest, most obnoxious color that I can paint that building that I can stand to look at every day, and people will drive by and go, 'What's that?' It works."
Wanna go? You can find Lunchbox Records on our Record Stores Map.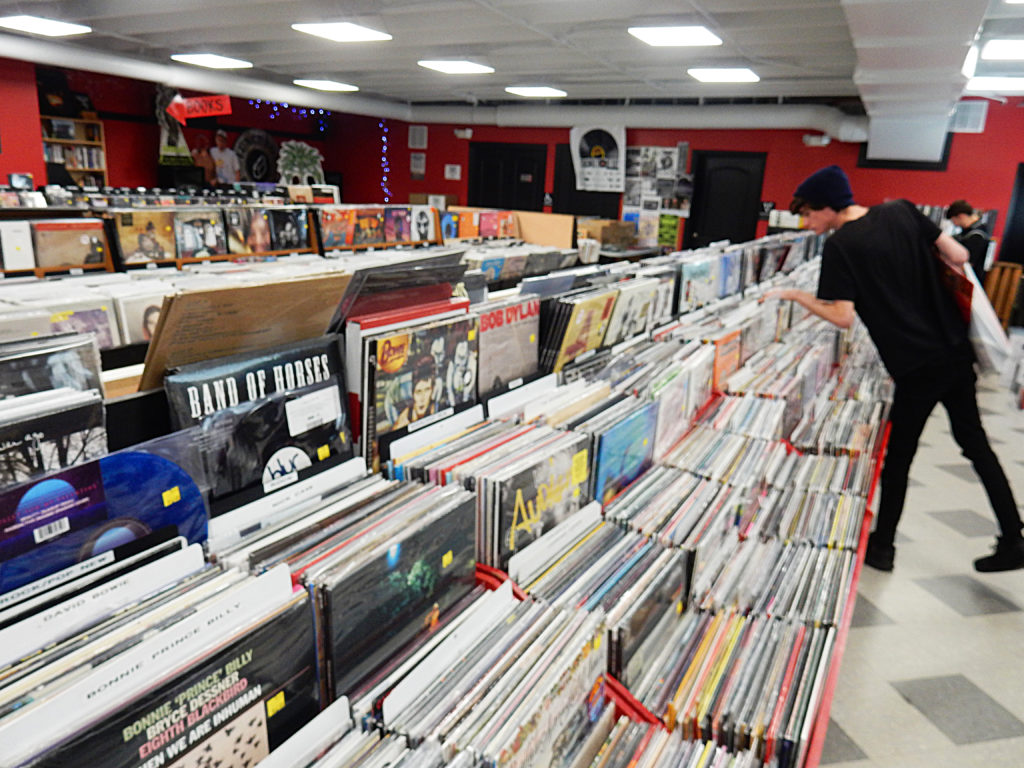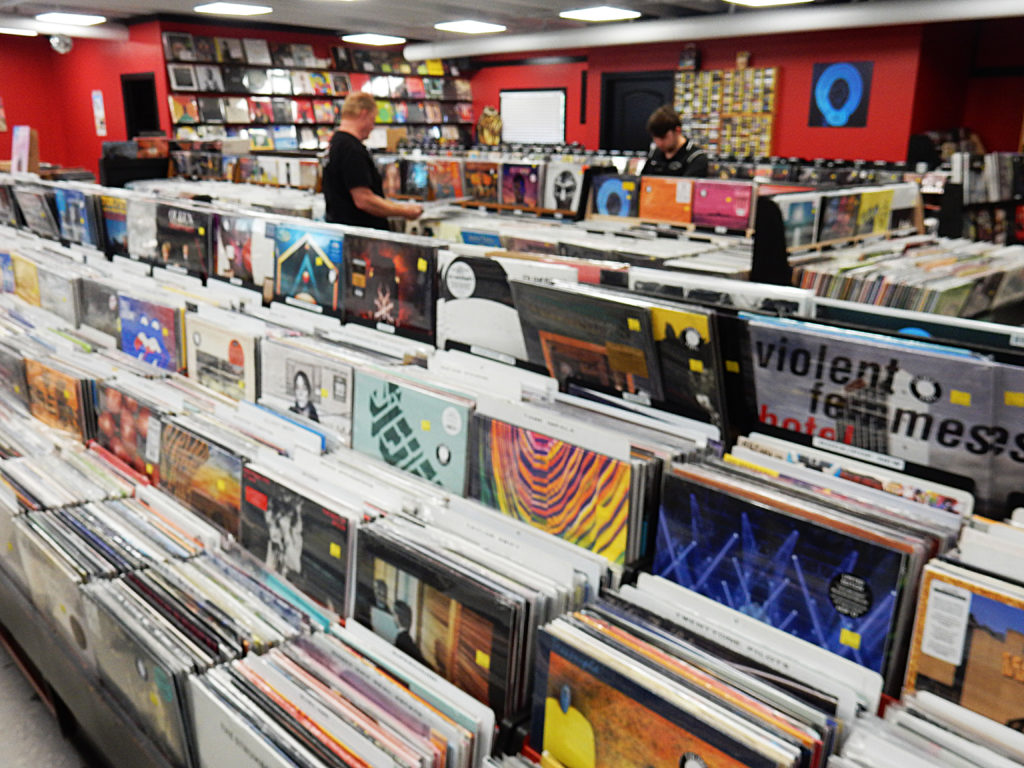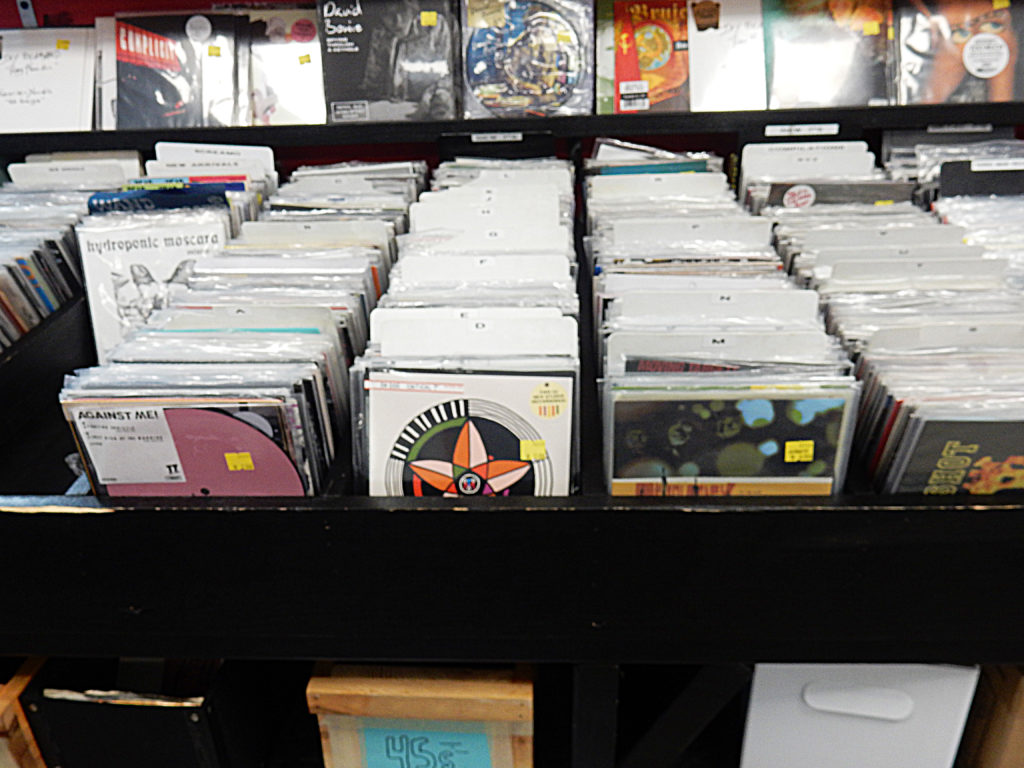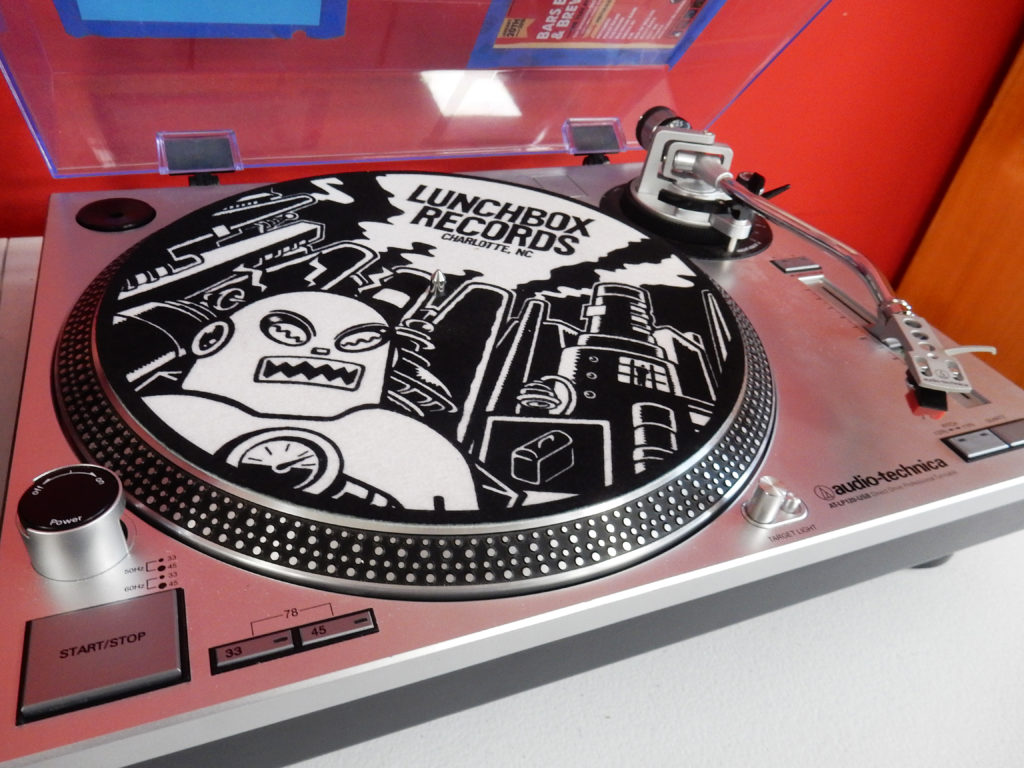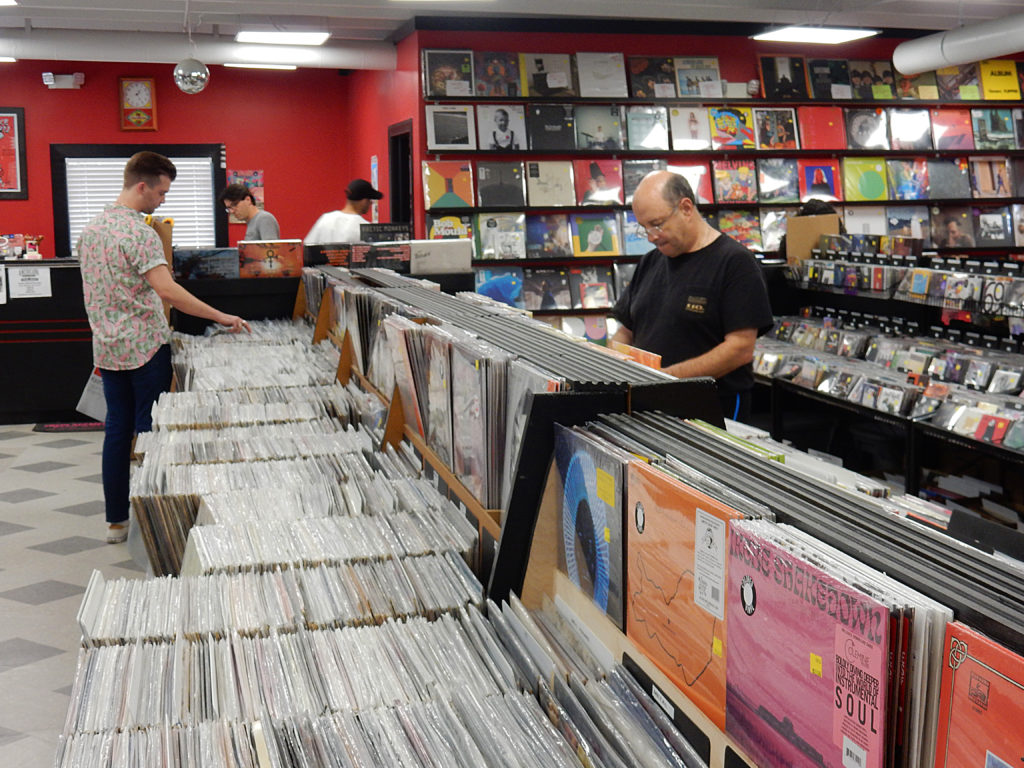 Here's a podcast from 2018 from WFAE's Amplifier In a World of Music Streaming, Charlotte's Lunchbox Records Keeps on Spinning interviewing store owner Scott Wishart about the store and its history. Part of the interview has been transcribed.
And Complex published this 2011 interview with Scott Wishart Wax Nostalgic: 7 Questions with Scott Wishart of Lunchbox Records (Charlotte) talking about the store and records.
The Charlotte Observer gives us the 2016 on the opening of their new location – Lunchbox Records' new, much larger space is now open. Long live the local record store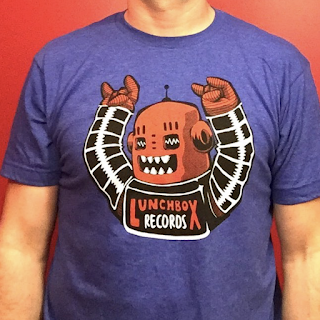 They had a nice selection of t-shirts – here's the shirt I picked (but not my arms).
Elliott Smith – Needle In The Hay
And my favorite purchase of the trip – a 45 by Elliott Smith of Needle in the Hay.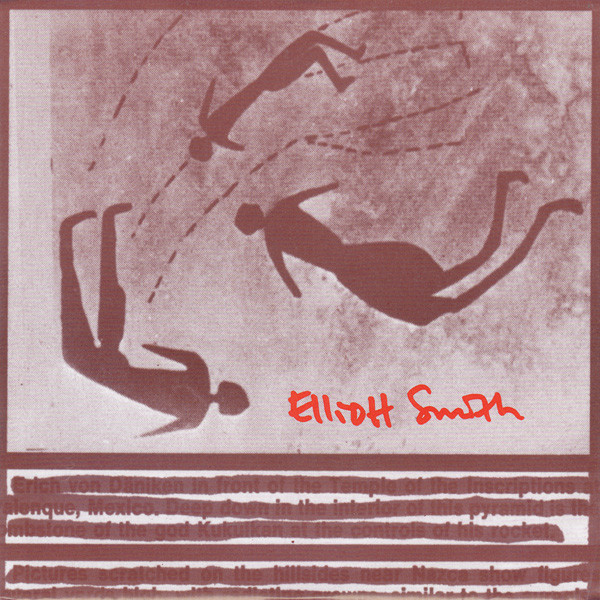 Here's a Youtube video of Elliott Smith performing the song. This is the lead song and only single from his second full length, 1995's Elliott Smith. On this one, he is accompanied only by himself, his guitar and harmonies he adds. A sad indie ballad, that gets under your skin.
Want more Elliott Smith?  You can listen to Elliott Smith's Cupid Trick , which was a May 2014 Song of the Day.
And here's a video of the store in its first location, which has an interview of Scott Wishart (pictured below) about his store.